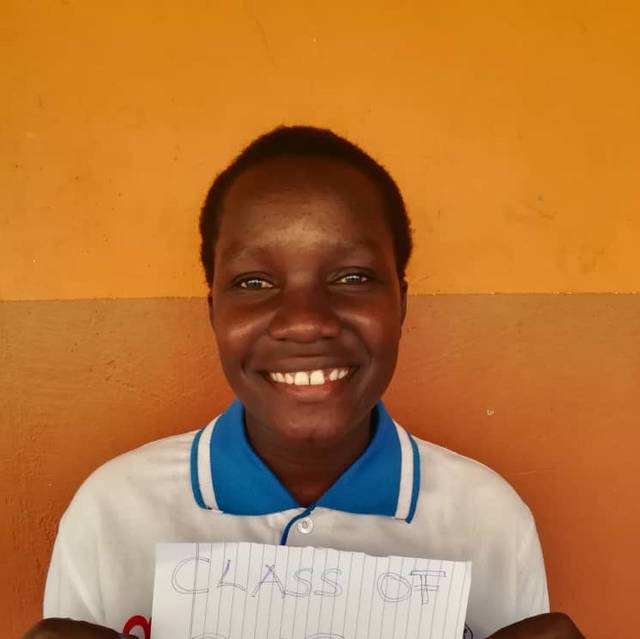 Scholar Stories
Long walk through adversity: a former child bride's path to education
Listening to Agnes Kabonesa (Uganda & UWC 2020) narrate the story of her life, one might think she is retelling a plot completely separate from herself. She shares harrowing details with a disarming lightness. Our conversation took place over the phone during the 2020 lockdown which she spent in Uganda, and every now and then she stopped to attend to her children. Family responsibility is nothing new for Agnes; her story is full of familial triumph and tragedy.
Agnes uses her mother's story to give context to her own. Her parents separated when she was five years old, and she went to live with her elderly paternal grandmother. She looks back on these years as a time marred by harsh conditions and child labour. Her mother eventually returned to get her, but because women were not allowed to own land they lived a life of squatting and being chased away wherever they tried to settle. Agnes's mother went to the Congo to work, hoping to save money and build a home, but upon her return her uncle refused to let them build on family land. Armed conflict in the area then led them to flee the city of Soroti to Masindi, a rural area 300 kilometres to the east. When they were able to return to Soroti, it meant starting from scratch.
When it came time to attend secondary school Agnes struggled to find a sponsor due to attitudes about educating girl children. She redid her final year of primary school to avoid being idle for the whole year; her mother planted a garden of cassava, hoping to make enough money to send Agnes to school. Education was free, but the family had to pay for additional requirements stipulated by the school. The money from her mother's produce was enough to pay for the first two terms only. A catholic priest agreed to assist for a year but when she was 15, her mother decided it would be better for the family's financial situation if Agnes were married. Agnes did not want to marry a 17-year-old boy who only had primary school education. "Even the process and agreement that was made for marrying me off was made out of my presence. I was just picked up from school and I was told now you belong to so-and-so," she recounts. Her first pregnancy ended in tragedy; after an agonising week-long labour, she lost the baby. After this, Agnes resolved to improve her life, and she joined a church. It was announced that an organisation called Alive With Purpose Youth Group was looking for young people to assist in community sensitisation on HIV, gender-based violence, and child marriage through music, dance and drama. She started attending the weekly engagements. As the only one in the group who was fluent in both English and the local language, she became the contact person for visitors.
In the years that followed, Agnes was able to go back to secondary school with the help of international NGO World Vision Uganda. Her life experience had molded her into a leader, and Agnes was elected head prefect by the other students. She studied hard and attained the position of the overall best student in her school. Her diligence earned her a full scholarship to attend a school where she could write the national exams (not all schools were registered for this). However, a condition from World Vision was that she had to leave her marriage. This did not discourage her – being back at school had made Agnes confident in her abilities. Emboldened by the taste of opportunity, she left the marriage. Her mother did not support this, and clan members were called to try and force her to go back. "By then I knew my rights and my responsibilities so I became stronger in the fight because I was knowledgeable about my rights", Agnes reflects. She did not yield, and left her marriage. She was 17.
Agnes arrived for the medical check-up needed to attend her new school. She was informed that she was pregnant and would not be able to go to the school. She says this revelation broke her heart – getting so close to her break-through only to suffer another setback. Agnes was devastated, but chose to plead her case. World Vision agreed to pay for her tuition even though she did not go to school – this would at least allow her to sit for the national exams. In this time, a nurse took her in because her mother would no longer allow her to stay at home as she had left her marriage. The examination period was difficult. There were heavy rains and floods impeding the walk to school, but Agnes wrote and passed, giving her entry to A-Levels. She eventually gave birth to a healthy baby.
Agnes went to live with her great grandmother and her siblings during her A-levels. Her mother had left, still holding steadfast that Agnes should return to her marital home. Agnes would walk the 16 kilometres to school three days a week, and work a shopkeeper's land on the remaining days to support the family. Her mother returned a year and a half later to find that Agnes was managing to take care of everyone at home while persevering at school. She decided to stay, accepting that her daughter would not go back to a marriage and a life devoid of opportunity. After all the hardship in her material world, Agnes started to take care of her internal world. She credits her path to forgiving her mother to a youth fellowship she attended at the end of her schooling which provided her with emotional and spiritual tools. Her mother apologised to Agnes for the choices she'd made on her behalf and agreed to look after her toddler while she went to university. Agnes wanted to become a teacher.
At university Agnes focused on her studies and her advocacy work on ending child marriage. She attended World Vision policy meetings in Nairobi, conferences in Addis Ababa with the African Union, and represented Ugandan children and youth as a World Vision young delegate in Brussels in 2018. Following that she was awarded a Mandela Washington Scholarship as well as the Diana Award in 2019. She is still very involved in community work doing life skills training, peer education, mentorship and career guidance in primary and secondary schools.
Her advocacy work ultimately influenced the decision to amend the Ugandan Children's Act in 2016 to include all forms of violence against children, women and girls. Agnes is currently studying a Masters in Women and Gender Studies through the University of the Western Cape, on the Mandela Rhodes Scholarship. Her research examines the nature of the psychosocial support that women who have experienced trauma access in Uganda, and their perceptions of that support. She has recently built a small house for her family, and she is working towards establishing a Community Vocational College which will be a social enterprise.
Share this article: