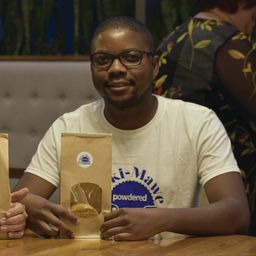 Keki-Mawe was established in 2016 by James Tayali as a social venture to reduce malnutrition, hunger and poverty in Malawi. They empower communities with agriculture training and food products that can alleviate hunger and malnutrition.
Hunger and Malnutrition are some of the critical public health problems that people in Malawi are facing. According to the United Nations report of 2019, approximately 1.2 million children under the age of 5 suffer from chronic malnutrition and 2.9 million people face hunger every year in Malawi. It also estimated that about 30% of pregnant women in Malawi suffer from some form of anaemia every year, most of which is related to deficiencies in nutrients such as iron and folate. Keki-Mawe aims to help the government to meet the United Nations Sustainable Development Goal Number. 2 of reducing hunger and malnutrition, through Agriculture and Food Security interventions in Malawi.
Keki-Mawe uses innovation and food science to produce simple but highly nutritious food, such as iron fortified powders, biscuits and instant porridge made from locally sourced ingredients. The food products are rich in essential nutrients such as iron, folate, calcium, proteins and vitamins, which are essential for human growth and can reduce the risk of developing health problems.
They also empower rural farmers with innovative agricultural trainings so that they can grow various nutritious crops, while withstanding adverse effects of climate change in order to achieve high yields from their farms and attain food security for their household. Trainings cover crop production methods of various crops and are codeveloped by agricultural experts and other experienced farmers in Malawi. Keki-Mawe also procures some of their produce and uses it as raw materials, to manufacture highly nutritious products that can alleviate hunger and malnutrition across the nation. This also empowers farmers with an opportunity to make extra income from their produce and provides them with a means of reducing poverty.
So far, through training workshops and other digital tools, Keki-Mawe has trained over 70,000 farmers in the central and northern region of Malawi and have helped them to achieve over 70% of more yield as compared to non-adopters of our agricultural methods. They have also produced and tested over 5000 biscuit units and instant porridge powders, that offer 60% daily value of iron and other essential nutrients. Keki-Mawe products have been tested and approved by various stakeholders, e.g., women associations, retailers, health organizations, and government, and we have received overwhelming positive feedback for their taste, design, price and nutritional impact in solving hunger and malnutrition