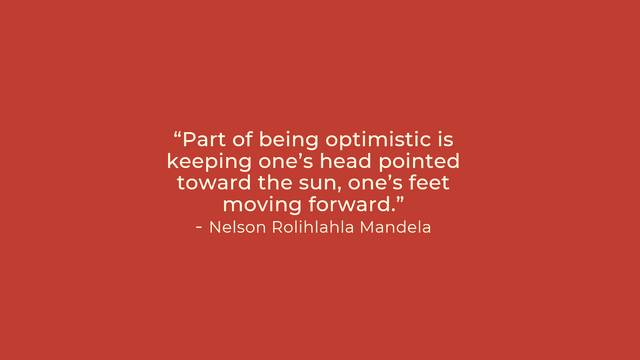 Foundation News
Q2 stakeholder update 2021: Alumni highlights | Äänit Prize | Programme news
Judy Sikuza shares some highlights from the past few months at the MRF.
Dear stakeholders

Halfway into 2021 and 18 months into the Covid-19 pandemic, I would like to share a simple and encouraging quote from our founding patron Nelson Mandela: "Part of being optimistic is keeping one's head pointed toward the sun, one's feet moving forward." As hard as these uncertain times have been, we at the MRF have been grateful to have our purpose tugging us forward as we remember the motivating force behind our work. I am delighted to report on some positive developments from the past quarter, as we continue our efforts in building exceptional leadership in Africa.

Alumni Relations: new prize & the 2021 SJMS scholars

We recently launched the new Äänit prize, which will award up to $80 000 per year to projects and organisations that can deliver positive social impact in Africa. This catalytic award is open to Mandela Rhodes Alumni and Rhodes Alumni, and applications open on the 1st of July 2021. Find out more online.

We extend our warm congratulations to the 2021 winners of the Shaun Johnson Memorial Scholarships, Alexes Mes (South Africa & UCT, 2019) and Jessica Breakey (South Africa & UCT, 2015). Both scholars are undertaking ground-breaking new studies that will yield new knowledge in their fields. Get to know them here.






In April the team launched virtual, self-directed alumni pods which can provide alumni with an ongoing connection to the support and sense of fellowship offered by the MRF community, wherever they are. We are piloting this approach and I look forward to seeing how this model develops.

Programme update: exploring reconciliation and a new partnership with UN Women

Our Class of 2021 experienced their second module online in May. The focus was on reconciling with one's self and others and beginning to think about the broader systemic manifestation of reconciliation.

In their second year our scholars focus on leadership in action, applying their knowledge and skills to real-life challenges. In an exciting new development, this year the programme is offered in collaboration with UN Women Africa. Scholars are challenged to come up with viable interventions to some of the intractable issues that UN Women are committed to solving. The second-years are currently researching the topics of social protection, youth unemployment and policy implementation, with dedicated advisors from UN Women given them advice and inputs along the way.

Thought leadership: recap our Africa Day webinar

On the 25th of May we hosted our second annual Africa Day webinar. This year we partnered with The Sustainability Institute to offer a transformative conversation on an important subject which affects us all: Africa's food systems. As food is an issue that is both deeply personal and systemic in nature, the dialogue between Mandela Rhodes Alumni and industry experts proved to be richly nourishing and rigorous. If you missed the webinar, you can watch it on our YouTube Channel.


Pan-African Outreach: selections underway for the Class of 2022

After a successful application season from mid-March to mid-April 2021, we are pleased to have received applications from 13 countries where we still do not have any Mandela Rhodes Scholars. These countries include Benin, Eritrea, Guinea, Niger, Mauritania, and Sierra Leone. The first round of reviewing is currently underway; and as always we appreciate our alumni reviewers who give back to the Foundation by helping with this important process. We are hopeful that many deserving candidates from the new countries can make it to the final selection round, moving us closer to Madiba's dream that this programme would benefit all the people of Africa.

Warm regards
Judy Sikuza

Chief Executive Officer
The Mandela Rhodes Foundation
Share this article: