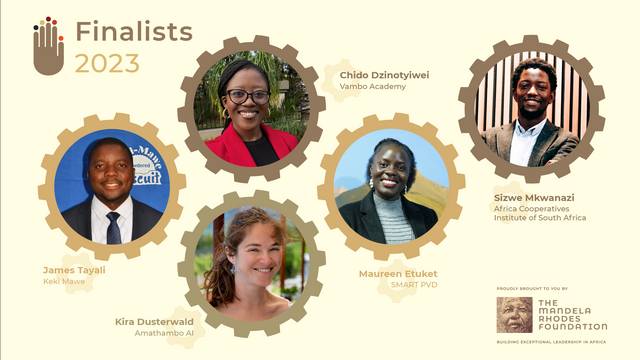 Foundation News
Young entrepreneurs at the helm of African social impact to compete for $80 000
Five young leaders have been shortlisted to win up to $80 000 for their socially impactful ventures in Africa. The 2023 Äänit Prize finalists run transformative projects in key areas of impact ranging from food security to public health, educational technology and small enterprise development.
The judges will make their final decision next week, and the winners will be announced live in a special ceremony co-hosted by 2021 Äänit Prize winner Esethu Cenga and engineer and speaking coach, Thabani Mtsi. The awards will take place on the 16th of September 2023 and will be broadcast live on YouTube. The public are encouraged to tune in to find out who wins, and enjoy a Q&A session where finalists will gain entrepreneurship insights from the panel of esteemed judges.
The public may also vote for the initiative that they think is most deserving of top honours. The winner of the Audience Choice Award will receive $1000 towards advancing the work of their project. Voting is now open; use the popup form below. Voting closes at midnight on the 14th of September.
The Äänit Prize is aimed at supporting initiatives that can deliver positive social impact for Africa's most marginalised populations. It is offered by The Mandela Rhodes Foundation, and is open to alumni of the Mandela Rhodes Scholarship and the Rhodes Scholarship.
This year's finalists are: Chido Dzinotyiwei (Zimbabwe) James Tayali (Malawi) Kira Dusterwald (South Africa) Maureen Etuket (Uganda) Sizwe Mkwanazi (South Africa)
Chido Dzinotyiwei: Vambo Academy, Making African languages more accessible
Entrepreneur Chido Dzinotyiwei and her team have built an accessible tool that understands African indigenous languages so that people can benefit from AI and participate in the digital economy. It is a web app that receives instruction and questions in indigenous languages and gives results in the same language or in English.
James Tayali: Keki Mawe, Championing food security and nutrition in Malawi
Social entrepreneur James Tayali runs Keki Mawe, a social venture that produces nutritious products such as iron-rich biscuits and powders. Keki Mawe aims to address malnutrition, iron deficiency anemia and food insecurity in Malawi. Keki Mawe empowers rural farmers by providing legume seeds that are fortified with essential nutrients and then buys back the harvest from the farmers as ingredients to manufacture various nutritious food products.
Kira Düsterwald: Amathambo AI, Using artificial intelligence to achieve efficient healthcare systems
Medical doctor Kira Düsterwald and her team developed Amathambo AI, which uses artificial intelligence to optimise resource allocation in African healthcare systems. Their initial focus is on automating and improving staff rostering systems, which can reduce wait times, enhance health outcomes and boost staff satisfaction. By using machine learning to predict patient loads, Amathambo AI will match staffing levels to demand, helping to address Africa's healthcare challenges.
Maureen Etuket: SMART-PVD, Saving the lives of new mothers
Industrial engineer Maureen Etuket and her team have designed the SMART-PVD device, a volumetric drape which measures the amount of blood lost after childbirth. The drape will empower midwives to save the lives of new mothers who lose an excessive volume of blood after childbirth. The device provides evidence which enables medical decisions to be made quickly, preventing maternal death.
Sizwe Mkwanazi: Africa Cooperatives Institute, revitalising small textile business
Entrepreneur Sizwe Mkwanazi founded Africa Cooperatives Institute of South Africa (ACI) which provides training, research and consultancy services for small cooperative enterprises. ACI is a social enterprise owned by its members. It has five directors and 70 affiliate sewing cooperatives that are owned and led by women. ACI is currently focused on establishing a clothing production and distribution hub on Frere Rd, Johannesburg. The hub provides machine capacity and embroidery services at 15% less than competitors.
Previous winners of the Äänit Prize run ventures in sustainable fashion, renewable energy, medical technology and early childhood development. Learn more about previous winners here.
The Äänit Prize is an initiative of the Mandela Rhodes Foundation, Nelson Mandela's official legacy organisation for leadership development in Africa. To date, we have selected 622 Mandela Rhodes Scholars from 33 African countries. For more information please contact Abigail McDougall-Fisher on abi@mrf.org.za or visit our website.
Share this article: