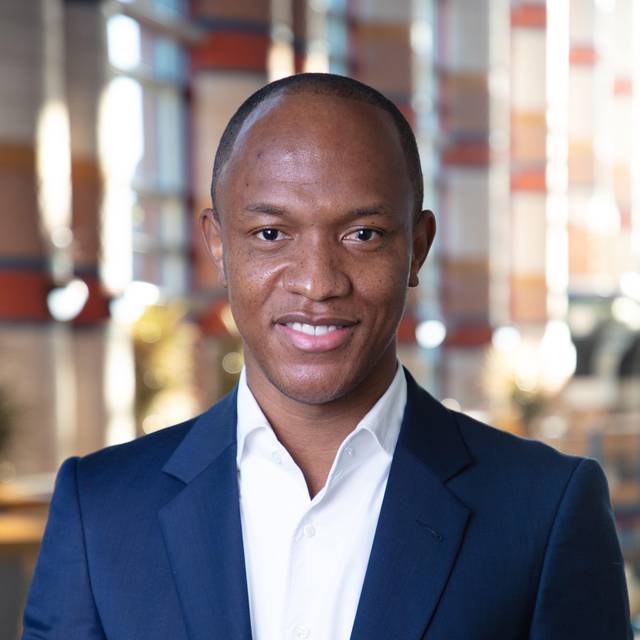 Scholar Stories
Driving a green agenda within big business: Yannick Yala Konga
Throughout his time as a Scholar-in-Residence and after he graduated, Yannick (Congo DRC & Tshwane University of Technology, 2010) has wanted people to see the world in a new way.
As one of the first students from the Democratic Republic of Congo, he wanted to show his fellow scholars - who largely hailed from Anglophone countries - a different perspective on the topics they covered in workshops. For topics such as reconciliation, Yannick chose to relate it to his childhood. "I lived through war; I spoke about it through the eyes of a child. It was very important [for me] to bring that experience. Half the room was in tears. I spoke to ensure that we look at experiences that are beyond South Africa," he explains.
Over and above getting to meet Mandela in person (a moment that left the usually chatty Yannick speechless), the dialogues and interactions with other scholars and guest speakers were a turning point for him. The diversity of views, mutual respect and encouragement within the 29-strong cohort gave Yannick the self-belief and grounding necessary to move into the working world after finishing his master's. He could have joined a conventional engineering firm but something else was calling him. It started with one of the Foundation's pillars. As Yannick puts it:
"I always say, an engineer transforms the world and I wanted to have an impact. Business has a huge impact, and civil society and government are affected by it. I wanted to be part of the business element."
His first job after graduating was at Huawei South Africa as a radio planning and optimization engineer. Yannick moved to Unilever in June 2012, where he would stay until 2016. His first position at the multinational company was as a specialised engineer, working on supply chains. From those early beginnings at Huawei, to Unilever and Tiger Brands, and now currently at PepsiCo, Yannick's work has fulfilled his three biggest wishes: to make a lasting impact in his work; to be a positive influence in the world of business; and to work within Africa. As Engineering Director for Africa, the Middle East and South Asia for PepsiCo, Yannick manages capital expenditure in those regions. He also has to ensure that facility design complies with global trends and strategies. It requires a strong background in engineering, but also interpersonal skills, innovative thinking, and foresight. Combining his qualifications and skills with his experience as a Mandela Rhodes Scholar is an important part of Yannick's philosophy when it comes to his work.
Businesses don't exist in a vacuum: the practices and processes of both large companies, and small start-ups impact society as a whole. For that impact to be positive, having the right people in the right positions and making the right decisions is key.
Yannick wants to make an impact in climate change. He believes that the business world has a fundamental part to play in restoring and preserving the health of the planet. Climate action requires significant investment and commitment without an immediate payoff - a tall order in a sector that tends to prioritise quick results. Both short and long-term planning is necessary for climate action, but factors such as profitability and pressure from stakeholders can make that difficult. Still, Yannick remains hopeful and motivated. He drives PepsiCo's strategic end-to-end transformation which is aiming to achieve net zero water consumption by 2030 and net zero emissions by 2040. Part of this transformation involves overseeing a first-of-its-kind R120 million investment into a biogas plant that would recycle waste from factories into electricity and organic fertiliser.
Yannick's time in residence was transformative, and a key component of that process was learning about leadership. "Up until that point, what I was doing was almost without a bigger context. Looking at it now, it's the ambition of The Mandela Rhodes Foundation platform that gave me wings to say 'hey, I can actually do this'. When you go back to the words of 'Aspire to Be', it's a very powerful thing to say, 'I aspire to be a Mandela Rhodes Scholar'."
Yannick aspires to be a good leader and leave a positive impact and legacy. Good leadership is what elevates a team, a company, a country, and a continent. On the other hand, the consequences of bad leadership are stagnation at best and regression at worst. Yannick is intentional about the impact he wants to have: "I have an opportunity to transform some of the businesses that I'm responsible for from an engineering perspective. For me, good leadership would look like, after X number of years of being responsible for specific areas of business, how has that been transformed for the better? How has [the business] left that part of the continent in terms of a better-quality end product? How are you impacting people or areas that you are responsible for?"
Yannick is less hopeful about the culture and standard of leadership in Africa. A poor culture of leadership (especially political leadership) underpins a myriad of problems including regression in education standards, growing inequality and a weakening of institutions. The silver lining is that although Africa isn't a country, there are issues that cut across geographic borders that require collective efforts to address. Yannick saw it in his cohort and in interactions with scholars from other years. For him, The Mandela Rhodes Foundation provides a space to nurture leaders across different sectors and countries. Having a large body of scholars can magnify its reach and impact.
"Leadership allows one to essentially multiply themselves. What the work of Madiba has tried to do specifically goes beyond the shores of South Africa, he has become the symbol of exceptional leadership, the gold standard of what a leader should be. And it's applicable across the continent: to this day he stands out as a standard of leadership because of the accountability he brought," says Yannick.
Still, he wants his peers to do more, especially when it comes to the future of the continent: "I think we need to find ways to be at the forefront of the conversation and shape the conversation in the next decade. We have a responsibility as scholars."
Thirteen years after his time in residence, Yannick looks forward to the future of the Foundation. He hopes to see scholars being titans of industry, presidents, thought leaders, and drivers of positive change. Ultimately, Yannick wants as many young Africans as possible to be afforded the same transformative experience that he was. For him, investing in African leadership is the best way to ensure peace, development, and unity for present and future generations
Share this article: