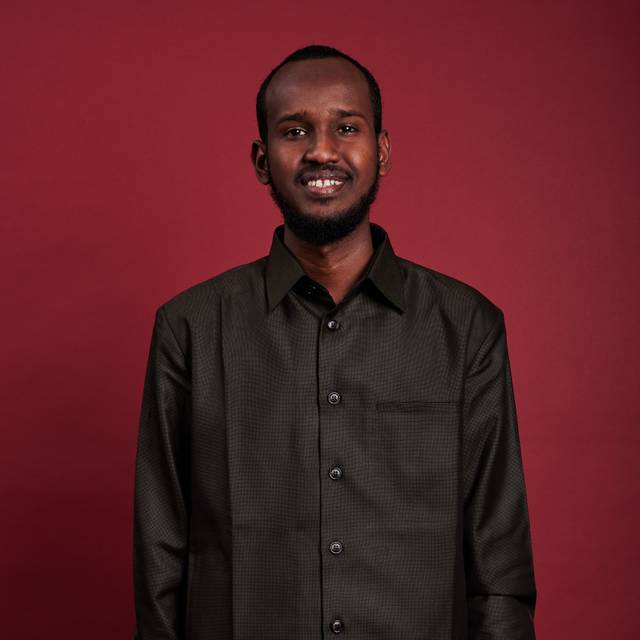 Scholar Stories
Luqman Jama: The Somali scholar seeking a path from poverty to peace for his nation
Luqman Abdukadir Jama is the first Mandela Rhodes Scholar from Somalia, a country on the horn of Africa known as the nation of poets
This reputation is perhaps unsurprising: in Somalia, children are required to attend Madrasa to learn and memorise all 600 pages of the Holy Quran before they can start attending school at age eight, thus equipping them with a rich poetic vocabulary. Luqman was the top student in his Madrasa and the only one to have fully memorised the holy Quran in eight months.
He maintained this standard of excellence when he reached primary school which eased some of his family's financial pressure. The top five learners in each class were exempted from paying school fees, and Luqman placed second in his class from the beginning. To this day, Luqman has been unflinching in the face of hard work which has ensured him back-to-back full-ride scholarships. Born in 1996, his early life took place against the backdrop of a country still recovering from civil war. His mother was the only person in his family who had managed to receive an education prior to the war. She was able to support him and his siblings by teaching Arabic in local schools. This wasn't without difficulty: Somalia's situation was still fragile and she'd be away from home without means to communicate for half the day.
By 2014, when he graduated from secondary school, Somalia had established a National University. Armed with an aggregate of 96%, Luqman met and surpassed the criteria for a scholarship. Being the steadfast but gentle-natured person he is, leadership soon came knocking. In his first year at university, his peers elected him as Vice President of the student association. While serving in his role as vice president, Luqman rounded up a group of his colleagues to volunteer two to three hours of their day to teach young children how to read and write. Somalia has an adult literacy rate of only 40% and only 30% of children are enrolled in school.
In the two years prior to taking up the Mandela Rhodes Scholarship, Luqman worked in the Ministry of Planning Investment and Economic Development with a focus on poverty reduction. During this time, marked by the Covid-19 pandemic, he decided to teach himself English. Fighting for poverty reduction as well as championing education led him to pursue Master's degree in Applied Economics. "I believe that the only thing we can do to move from poverty is to enhance our economic system," he says. "We have a lot of resources and Somalia has the longest coastline in Africa. We also have a lot of suitable land for farming." Luqman is determined to return to his home country and help the efforts to rebuild, even though ongoing conflict undermines this potential. At the time of writing, he had just received the tragic news that his uncle had been one of the casualties in the November 2022 bombing of a hotel in Mogadishu.
Moving to South Africa was an adjustment. Luqman comes from a big family; his 14 siblings are, in effect, a built-in community. Before studying in South Africa, the most time he spent away from home would be a week at a time. It was also his first time living in a country experiencing peace. He says the student wellness centre at UCT and the community of Mandela Rhodes Scholars really helped him adapt and overcome his homesickness. He also was able to start facing some of the trauma of growing up in a place of constant conflict.
Becoming Somalia's first Mandela Rhodes Scholar is a huge source of pride for Luqman, and it has motivated him to help others in his home country do the same. "I'm grateful to the leadership program for giving me space to understand myself, my ability and what I can achieve," he says. In his lifetime, he would like people to see Somalia as the beautiful country it is, full of talent that he knows it to be, and not one that is only characterized by conflict.
Luqman is an avid reader and loves learning about the history of Islam and Islamic civilizations of old. He is most inspired by the leadership of the prophet Muhammad: "Brother Mohammed was a kind person, serving with humanity and he also believed in equality of the people". This is the kind of leader Luqman aspires to become.
Share this article: