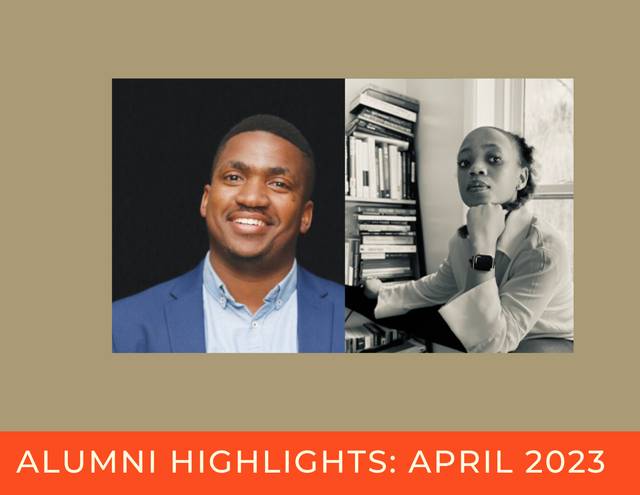 Young African Magazine
Alumni Highlights: April 2023
We are inspired by our alumni's commitment to social justice, academic excellence, and the pursuit of a better African continent. Get to know a little about this month's achievers and join us as we applaud their hard work and dedication.
Koaile Monaheng (Lesotho and University of Capetown, 2020) was among the young trailblazers recognised in this year's Forbes 30 Under 30 Africa for his work as an associate director and shareholder of Khantša energy solutions. Khantsa is a business that provides solar power to rural communities with the aim of tackling energy poverty, and offering affordable energy solutions throughout Lesotho. Forbes 30 Under 30 Africa recognizes individuals who have demonstrated exceptional achievements and potential in their respective fields. It aims to showcase young entrepreneurs, innovators, leaders, and change-makers who are making significant contributions and impact across various industries and sectors in Africa. Koaile is a Consulting Associate and his areas of interest are in climate, energy and development. He also serves on the Lesotho National Climate Change Committee (NCCC).
Zinhle ka'Nobuhlaluse (South Africa and University of Witswatersrand, 2016) has been selected as one of the 2023 Career Diversity Workshop Fellows with The Humanities Without Walls consortium. Comprised of 25 PhD students in the humanities and humanistic social sciences, the Fellows represent 20 higher education institutions across the United States. The Fellows will engage in a series of workshop sessions, talks, informational interviews, and site visits, hosted by the College of Liberal Arts at the University of Minnesota Twin Cities. Zinhle is a dual-title PhD Candidate in Philosophy & Women, Gender and Sexuality Studies at Pennsylvania State University. Their dissertation project, Towards an Existential-Phenomenological Standpoint (ESP) Reading of Blackwomen's Autobiographies Under Apartheid South Africa, explores how the autobiographies of two South African Black women, Mamphela Ramphele: A Life (1995) and Caesarina Kona Makhoere: No Child's Play: In Prison Under Apartheid (1998), can be used to articulate a unique standpoint on the lived experience of being Black and woman under Apartheid South Africa, including its aftermaths.
Share this article: