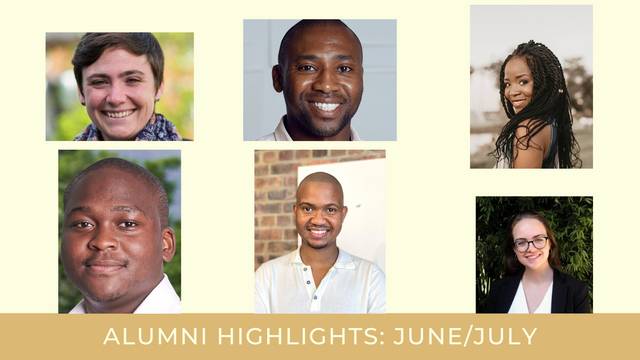 Young African Magazine
Alumni Highlights: June/July
This season afforded us an opportunity to connect with some of our alumni in person. The outcome of this was getting to hear from them directly how they are doing and what they have currently achieved. As always we are extremely proud of how Mandela Rhodes Foundation alumni make moves out in the world and the heights to which they fly our flag.
Janet Jobson (South Africa and Rhodes University, 2006)
At the start of June, Developmental specialist and 2006 scholar, Janet Jobson was announced as the new CEO of the Desmond & Leah Tutu Legacy Foundation. Her mandate in this role is to respond to the human challenges of our time by developing programmes and partnerships infused with the archbishop's wisdom, courage and morality. Speaking to Business Day about her appointment Janet said, "So much of what determines the success of our work in social justice is ultimately relational. Archbishop Tutu was an extraordinary public figure who had the capacity to bring his simple, human way of being and doing into very complex situations. That is the work I want to pursue — not what does the foundation think about climate change, but what does the deep well of our collective humanity — our human ethic — tell us we should be doing?". Archbishop Desmond Tutu was the last surviving South African laureate of the Nobel Peace Prize, he passed away in December 2021 in Cape Town at the age of 90.
Daniel Ndima (South Africa and University of Pretoria, 2015)
CapeBio Technologies, a leading bioetechnology company co-founded and led by 2015 scholar, Daniel Ndima, won the award for the Best Innovation & Technology at the inaugural Black Industrialists & Exporters Conference. Daniel accepted the award which was presented by South African President Cyril Ramaphosa. These awards are hosted by the Department of Trade, Industry and Competition (the dtic). They are aimed at recognising business excellence and honouring enterprises which promote innovation, job creation and sound business ethics. In April this year, CapeBio Technologies announced it had started manufacturing rapid Covid-19 polymerase chain reaction (PCR) test kits with the Council for Scientific and Industrial Research (CSIR) in an effort to stop relying on imports and improve the country's competitiveness.
Pinky Jedidiah Mokwena (South Africa and Tshwane University of Technology, 2019)
Pinky was named one of Mail and Guardian's 200 Young South Africans under the Environment category. This honour recognises young innovators and creators of viable and non-conventional solutions, who are helping to create an equitable future where every person has access to resources and opportunities. Pinky is the founder and chief executive of Metsi a Teng, an advanced water purification enterprise. Her innovation has to date won four different awards for its innovative nature, including the Inter-Varsity Innovation Challenge and the Blue Ocean Award.
Ntebogang Segone (South Africa and University of Cape Town, 2021)
Quantitative Analyst, Ntebogang Segone was named one of Mail and Guardian's 200 Young South Africans under the Civil Society Category. The biggest impact Segone wishes to have is to support disadvantaged individuals seeking career advice, which is why he created YourCareerPlug, a guidance service to empower young professionals. His own journey saw him rising in the face of economic hardship and even being financially excluded from the University of Cape Town in his first year. Ntebogang shares that "One of the best ways to constantly validate yourself is by doing everything and anything you want to do, don't overthink it, just do it."
Thandolwethu Hlongwane (South Africa and University of Cape Town, 2021)
Mail and Guardian also recognised Thando Hlongwane in the Business and Entrepreneurship Category. Thando has fixed his gaze on using technology as a solution to the problem of Education and Inclusion that South Africa faces. As a computer studies student, he pioneered two companies. Thando built on his experience as a finance and tech entrepreneur to found Lipa Payments, a contactless payment solution available across Africa. One of the largest banks in South Africa has since used Lipa Payments software in a recent pilot programme.
Heather Dixon (South Africa & Rhodes University, 2018)
Heather Dixon has been awarded a Chevening Scholarship to study her Master's Degree in the U.K. As a Mandela Rhodes Scholar Heather completed her Honours Degree in History, and Political and International Studies (with distinction) and prior to this, she had graduated as the top History and top Psychology student in her year. She will be studying towards an Msc Development Studies at SOAS, University of London, commencing in September 2022. She hopes to continue influencing effective development initiatives and policy through evidence-based learning and evaluation in South Africa and Africa.
Share this article: