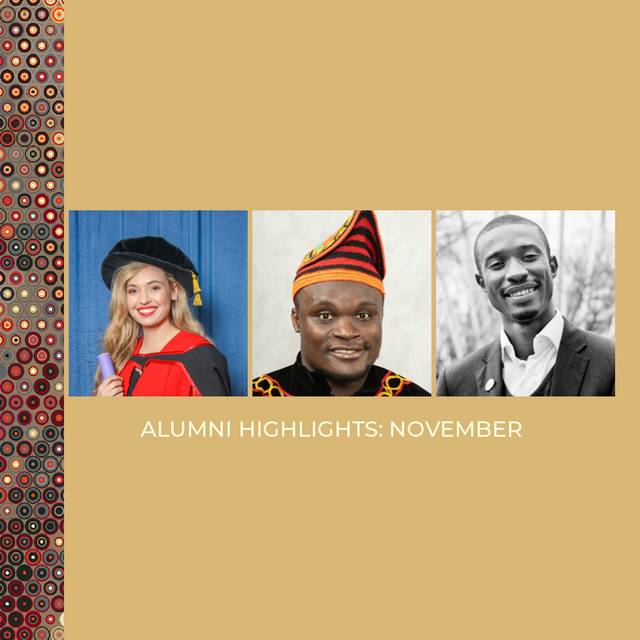 Young African Magazine
Alumni Highlights: October/November
The year is drawing to a close and this is a time for taking stock of the rewards of our hard work. We'd like to highlight three scholars who end this year on a high note having completed their PhD or launched impactful projects. Sharing their wins gives us great pride and we look forward to seeing what these excellent young leaders will do next.
Two PhDs completed
Dr Mikaela Oosthuizen (South Africa & University of the Witwatersrand, 2018) completed her PhD in Media Studies from Rhodes University. Asked what the challenge of pursuing a PhD and working full-time taught her she shared:
"The power of time management. Since I was young, I was taught that you can become the star of the hour if you make the minutes count. I learnt that my energy is a valuable resource and so before I apply it to anything else, I should prioritise my PhD. On weekdays my day started at 5am working on my PhD before business hours so that no matter what happened in the rest of the day, I knew I had invested the time in my studies. Your studies make up a small portion compared to the rest of your life, I knew that saying no to a few things now and sacrificing my time to focus on my studies, meant that I would be able to say yes to the things I really wanted long term. My advice to those wanting to pursue a PhD is to make the minutes count".
Dr George Mbella Teke (Cameroon & Stellenbosch University, 2018) completed a PhD in Chemical Engineering which he started off as a master's degree. His project was runner-up in the Famelab (science communication forum) competition at Stellenbosch University, a finalist for Green Talent Awards and a Top five for the Initiate Young Talent Challenge. On why one might want to consider doing a PhD, George says:
"It is a journey to learn new things and challenge the status quo, which is generally a big decision to make that will stay with you for the rest of your life. It should be the passion and drive to find new solutions to burning world problems."
For those who are on the fence about whether a PhD is for you, read George's article here.
A step forward for township entrepreneurs
Dr Patrick Ebewo (Nigeria & Tshwane University of Technology, 2012) led the team that launched Tshwane University of Technology - Center for Entrepreneurship Development. This centre is set up to facilitate and promote entrepreneurship development by providing an array of business support resources and services for early-stage entrepreneurs, particularly those who are students. Speaking to SABC at the launch of the centre, Patrick said:
"We are based in the township and the question is what are we contributing as the people's university to the community that we are in? Another important dynamic is that we have unemployed graduates so as a university we are part of the problem so how then do we prepare future-ready graduates? And if you look at the future of work, entrepreneurship is a cornerstone of this."
He said the aim is to create an enabling environment for students to become entrepreneurs even while they are still in university. The Center has already supported more than 600 small business and more than 50 student entrepreneurs across industries.
Share this article: