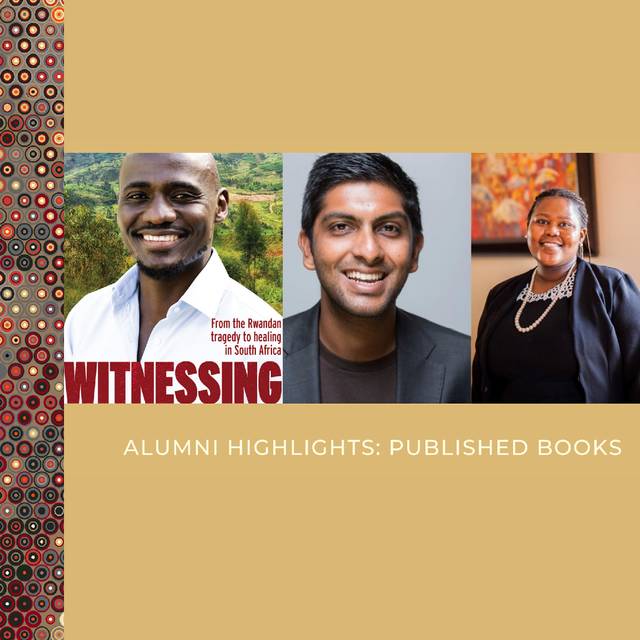 Young African Magazine
Alumni Highlights : Published Books
Celebrating the excellent individuals that make up the Mandela Rhodes community is consistently inspiring. Some of our alumni have done the brave and vulnerable work of publishing books that add nuance and understanding to the African experience. Join us as we congratulate, encourage and express our admiration.
Pie-Pacifique Kabalira-Uwase (Rwanda and University of KwaZulu-Natal, 2006) has published his first book titled Witnessing: From the Rwandan tragedy to healing in South Africa. This moving recollection centers on his emotional but rewarding journey of self-discovery, where he confronts the depth of his traumatic past and reaches for his dreams. In 2001, Pie-Pacifique fled Rwanda and landed in downtown Durban, South Africa where he made his living as a car guard. Through knocking on doors and advocating for himself he was then able to enroll as a student at the University of KwaZulu-Natal and went on to get a Mandela Rhodes Scholarship. He is now founder and director of a management and consulting company, PEM Afurika. The book has been described as a "sensitive, grippingly vivid narrative which comes from a man who managed not just to escape death and survive , but thrive".
Zukiswa Mqolomba (South Africa and University of Cape Town, 2010) and Suntosh Pillay (South Africa and University of KwaZulu-Natal, 2008) have co-edited a new book, Chasing Freedom: Histories, analyses and voices of student activism in South Africa. This work covers diverse histories of student movements in post-apartheid South Africa, taking note of the historical moment of the 1976 student uprisings and the evolution of student activism in the time since. Both Zukiswa and Suntosh are sharp academic and political minds and any work they touch is bound to be considered and provoking. In her time as a student, Zukiswa held the position of SRC President at the University of Cape Town and now works for the Presidency of the Republic of South Africa. Suntosh is a clinical psychologist and researcher in the public sector in Durban, with roots in student journalism, community mobilizing and mental health advocacy.
Share this article: