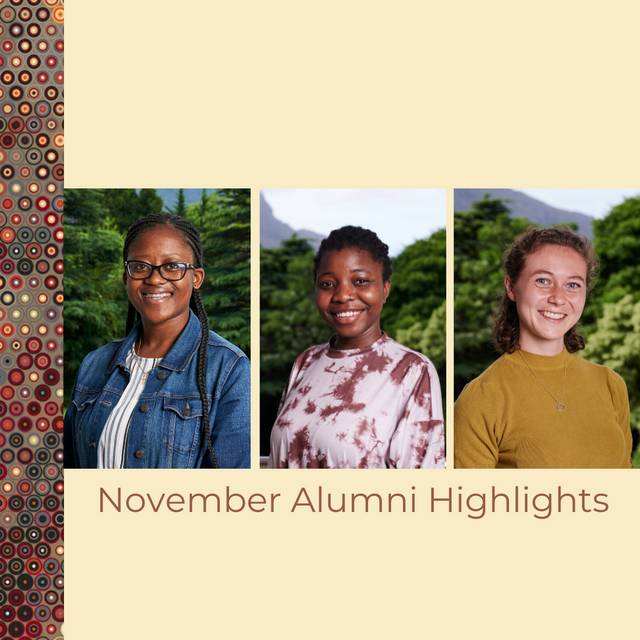 Young African Magazine
Alumni Highlights: November
Witnessing our alumni achieve their goals and reach milestones in their journeys is a great source of pride for our organisation. In the month of November 3 young leaders had their efforts affirmed and we would like to highlight them for their excellent accomplishments.
Chido Dzinotyiwei, (Zimbabwe & University of Cape Town, 2018)
Vambo Academy, the brainchild of Chido Dzinotyiwe placed first at the Entrepreneurship Development in Higher Education (EDHE) Intervarsity National Finals in the Tech Business category. EDHE is a platform that supports universities with developing student entrepreneurship, entrepreneurship in academia & entrepreneurial universities. Vambo Academy is an educational technology (EdTech) platform that provides digital resources to support language learning and translation. In addition to teaching indigenous languages, the platform also offers a dictionary service, as well as blog posts and podcasts on relevant cultural topics. Students have the opportunity to learn a new language in one of two ways: using the self-learning tool and learning at their own pace, or they have the option of booking a virtual session with an experienced tutor for a one-on-one, personalised learning experience.
Isatu Bokum (Gambia & University of Capetown, 2021)
Isatu Bokum is not only the first Mandela Rhodes Scholar from the Gambia but she is now also the first Rhodes scholar from her home country, this after being selected for the 2022 cohort. Isatu is a Media Professional and a women and girl's rights advocate. She started her non-profit organisation dubbed Girls Talk Organisation at age 21, which advocates for the rights and wellbeing of girls and young women in society. In a bid to eradicate cultural norms and traditional beliefs that continuously daunt their growth and limit their ability to reach their fullest potentials, Isatu has reached over 10,000 women and girls throughout the country. She has achieved this through social media campaigns, sensitisation, mentorship, leadership, and capacity building programs for adolescent girls and young women from vulnerable homes.
Claire McCann ( South Africa & Rhodes University, 2021)
Economics Masters candidate, Claire McCann was also awarded a Rhodes scholarship for year 2022. Claire aims to better incorporate the experience of civil society into the economics discipline, as well as highlight the immense economic value of social reproduction (or the affective labour conventionally performed by women) that is often rendered invisible. Claire is passionate about lifelong learning and hopes to participate in the construction of a more just and inclusive education system. She has tutored and mentored extensively in partnership with GADRA Matric School and the 9/10ths mentoring programme, and has led mentor groups.
To these excellent young leaders we say, onwards and upwards!
Share this article: