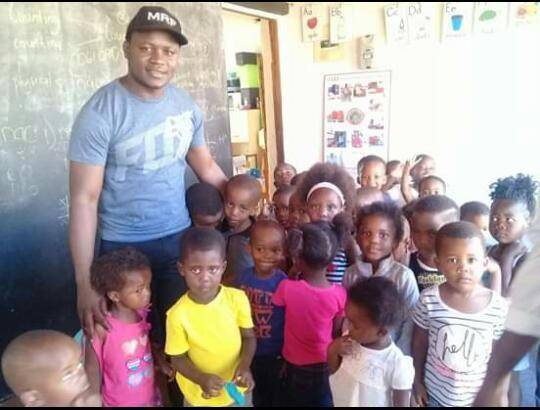 Young African Magazine
Nutrition matters: Improving the first 1000 days
On Africa Day the Mandela Rhodes foundation (in partnership with the Sustainability Institute) hosted a panel discussion which critically engaged with the food systems that we rely on. We asked the question "how do we feed the world without destroying the planet?". Keeping to this theme, we spoke to Erich Midigo (Kenya & NMU, 2018) who founded and is the Executive Director of Ndalo Heritage Trust, an initiative that promotes nutrition, food security, good health and well being during the first 1000 days of life in underprivileged communities of Kenya.
What attracted you to this field?
My field of study was Nutrition and Dietetics. There is so much that is going on in the field of nutrition, health and diet but I realised that there wasn't an approach that was bottom-up, especially that is looking at children from rural and underprivileged communities. There's not enough was being done to invest in this younger generation. It all begins from conception so from the time a mother is expecting there are a lot of nutritional needs for the healthy development of a child. 80% of the brain of a child develops from conception until the age of two. My plan was to have an intervention that addresses the first 1000 days of life. Over and beyond nutrition we are also trying to develop human skills; nurturing these children to understand other aspects of life like understanding, compassion and empathy.
What would you want someone to understand about the first 1000 days? Why are they so important?
What we mean when we say the first 1000 days of life is the period from conception to the child's second birthday. (In other spheres of academia and World Health Organization frameworks this would extend to three years but some people also have interventions going to five years.) If something goes wrong in this phase of life, it is very difficult to correct it later on as an adult. Malnutrition of children is still a very big problem in Africa: for example in Kenya 26% of children are stunted, which causes impaired cognitive development, creating a challenge with access to education later on. Almost 11% of Kenyan children are underweight which makes the immune system weak and this leads to high cases of child mortality
What are the main challenges Ndalo Heritage Trust aims to tackle as an organization?
Ndalo heritage is anchored on addressing Sustainable Development Goal 2 which is Zero hunger as well as Sustainable Development Goal 3 which is Health and well-being. These SDGs are two sides of the same coin. Under zero hunger we are doing projects in line with food security. Firstly we are training households and communities to produce their own foods and we are also looking at traditional foods. Traditional African foods are very nutritious and provide all the essential nutrients that are needed for the development of a child.
For our other anchor pillar SDG3 we are looking at occupational therapy especially disability inclusive development because we found that children with disabilities suffer a lot of stigma. These children are often neglected and ignored. As our mantra and our drive is inclusion and empowerment, we train parents, caregivers and communities. We have a framework that we call the Nurturing Care Framework which addresses how to include these children in society and in schools. We have a project where we bring toys for them and have plays and dances and songs that help them learn. We also understand that motherhood comes with challenges so we also rope in younger and adolescent mothers too. Some have postpartum depression and we offer them counseling.
What kind of foods do you recommend?
If you look at women and children, for a strong immune system they require zinc which is a micronutrient and can be found in seeds and nuts. Green leafy vegetables like kale and pumpkin leaves are also good. When I was in South Africa I remember seeing kale in supermarkets and feeling like dancing, it reminded me of home, in Kenya we call it sukumawiki. There is also a perception about vegetables as food for the poor so we're also trying to change that perception because vegetables are what we need to improve our immune systems and for better overall health and well-being. This doesn't mean we don't need protein found in meat, this is also very important but the message here is to have a variety from different food groups.
What kind of unexpected hurdles have you faced in your organization?
One of the challenges we're coming across is a lot of interest from politicians and government. Kenya is about to go into elections and so you find politicians using the organisation as a platform for their own political causes. The danger of that is that some supporters who may not like these politicians who have used your project to campaign become slow to embrace the project. Sometimes you find resistance and you now have to do more sensitization. The one way we addressed that challenge is by going door to door to talk to people from the households and families. We explain the whole context and vision so at the end of the day they make informed decisions. We invite them to workshops so they are able to differentiate between facts and politics.
Where in the continent do you think this sort of initiative has been successful?
In South Africa I saw partnerships between local NGOs and UNICEF. Specifically in Port Elizabeth there was an organisation which I was introduced to through a Mandela Rhodes alumnus, Jessica Ronaasen. Jess has done a lot of work in early childhood development. She had a holistic program of health and wellness where they offered psychosocial support, nutrition and water sanitation and hygiene. There are also elements of counseling much like palliative care. I also came across one in Cape Town called Butterfly house. They gave me pointers in human skill development. In their program they also nurture talent, paying attention to other aspects of a child's growth other than academics and showing them how to demonstrate good values like honesty and patience with a reward system. I found this to be very innovative.
Within the next five years what would success look like for you?
I would like to rope in institutions and partner with local universities and technical training institutes that offer courses such as midwifery and nursing and occupational therapy. Their students could find a platform to practice their training in communities with the mothers and children that Ndalo Heritage serves. That for me would be success. I would also like to see Ndalo Heritage contributing to policy making conversations around food security and early childhood development. We have brains in the team and we can produce and disseminate material that can be useful for benchmarking in different parts of Africa.
Share this article: