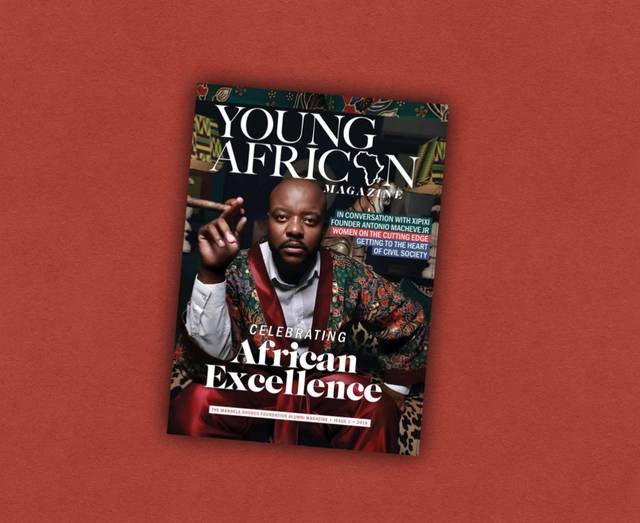 Young African Magazine
Young African Magazine: Issue 1
Young African Magazine was launched in July 2018, at the joint celebration of the 100 year centenary of Madiba, and the 15th birthday of the MRF. The first issue was edited by Coralie Valentyn. Her editor's letter follows below, as well as a PDF of the issue for download.
A Note from the Founding Editor
Welcome to the inaugural edition of Young African. It is with great care and a shared vision that we've been able to put together the Foundation's first Alumni magazine, and what a journey it has been!
Young African was inspired by our desire to connect meaningfully with Scholars and Alumni. It seeks to deepen our identities as Mandela Rhodes Scholars and further build a sense of community. The aim of this first issue is to celebrate the many African countries that the Foundation now has the privilege of representing, as well as provide a sense of the Foundation's vision–that being to build exceptional leadership in Africa. We feature Alumni who are currently living or working in numerous countries on the continent as well as those engaging various issues pertaining Africa. Furthermore, we hear from Alumni reflecting on their involment with the Foundation over the past few years as well as get insight into what Alumni are grappling with and are passionate about through the two thought leadership articles.
This edition boasts contributions from ten Cohorts starting from as early as 2006, and the representatives from the ten countries featured span from Southern Africa to East and West Africa! I look forward to seeing this number grow and having our footprint etched on every corner of the continent in the coming years.
I am deeply moved and inspired by the many Scholars who have shared their stories in Young African. Thank you to each of you for making this dream a reality. Lastly, a special thank you to my incredible editorial team–it's been a privilege working with you and learning from you.
I hope you all enjoy this edition and feel proud of being part of this special family.
Download a copy at the link below.
Share this article: