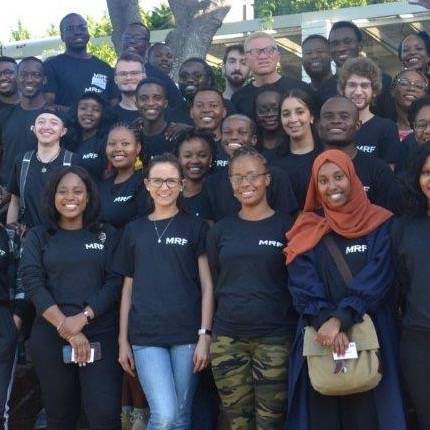 Foundation News
The Mandela Rhodes Foundation quarter one 2020 update
New Staff
Four new team members joined the Foundation this year, and have settled in so well that it is difficult to believe they have only been with us for a few months. Their appointments concretise a point made in the CEO's first official stakeholder update last year, which noted 'it will be crucial to ensure that we resource vacancies and new posts with appropriate skills that align with our strategy.' And how fortunate we are to have found the perfect people for the roles. Welcome to team MRF Zaiboonisha, Lunathi, Ayanda and Joseph. The Foundation is privileged to have you on board to help us continue to deliver on our key objectives in true 'Madiba Magic' style and excellence.
Introductory Workshop 27-31 January 2020
Programme Manager Coralie Anyetei reports as follows: "The Class of 2020 is made up of Scholars from 14 African countries, and we proudly welcome Djibouti and Burkina Faso to the ever growing MRF family. A key highlight from the Introductory Workshop was engaging with the theme of decolonisation of the self, as a new entry point into discussions around inner leadership and humanity. Most notably, this took the form of an inter-generational conversation between MRF Chair Professor Njabulo S. Ndebele, MRF CEO Judy Sikuza and Mandela Rhodes Scholar Andrew Akpan, who shared their stories and lessons on this important topic. The keynote address was delivered by Professor Enase Okonedo, Dean of Lagos Business School, who spoke passionately about the importance of upholding your values, setting boundaries and being true to who you are as a leader."

Commemorating 30 years since Nelson Mandela's return
The 11th of February 2020 marked the 30th anniversary since Nelson Mandela's release from prison. Nelson Mandela Foundation CEO Sello Hatang and MRF CEO Judy Sikuza co-hosted the day's programmatic events, which featured a powerful keynote lecture by Nobel Laureate Leymah Gbowee from Liberia, and an address by South African President Cyril Ramaphosa. Key insights from the commemorative events, plus the full video with the President's speech can be found here.
Passing of MRF Founding Executive Director Shaun Athol Johnson on the 24th of February
Shaun was the Executive Director of the MRF from inception until he stepped down in July of 2019, and his death came as a shock to all of our scholars and alumni, staff and stakeholders. Local MRF alumni were able to meet at the Foundation in the week of Shaun's passing to share memories with one another and with his wife Stefania and daughter Luna. This gathering provided some comfort, particularly in the light of the subsequent postponement of the planned public memorial due to the Corona virus pandemic. We have also created a digital tribute which anyone can contribute to in remembrance of Shaun. He will be dearly missed.
New MRF website and 2021 applications open
Our website is a key strategic communication tool in advancing our work, serving as the first touch point between the MRF and the outside world. It is particularly important in light of our applications efforts, as for many of these potential applicants the website is their only source of information about the scholarship. The team has been working tirelessly over the past few months to make our website more modern and user-friendly, in order to attract top calibre applicants. We are pleased to have successfully launched the website ahead of our 2021 application cycle, which opened on the 16th of March. Please spread the word to talented young Africans to apply for this life changing opportunity.
Renaming of Leverhulme Mandela Rhodes Doctoral Scholarships in memory of Shaun Johnson
The Leverhulme Trust, a longstanding and most valuable partner to The Mandela Rhodes Foundation, has made a generous gesture to honour the legacy of our Founding Executive Director. The Board of the Leverhulme Trust has decided to rename the Leverhulme Mandela Rhodes Doctoral Scholarships to the Shaun Johnson Memorial Scholarships. The Scholarships are available exclusively to our Alumni, and offer fully-funded PhD study in the United Kingdom. Two scholarships are available each year, making it a very competitive offering. This profound gesture is a moving way to memorialise Shaun's legacy, which we plan to take forward with as much determination, clarity of vision and impact as he did. Applications for the Scholarships are currently open.
New digital platform for Mandela Rhodes Alumni
The team is currently launching an ambassador initiative on the MRF's exclusive digital platform called MandelaRhodesConnect. The platform allows alumni to connect with members of their cohort and establish cross-cohort relationships with alumni who live in their regions. It invites alumni to leverage the power of the Mandela Rhodes network by collaborating on subjects of mutual interest and opening doors to advance one another's impact. Thus far the uptake has been excellent, and we look forward to increasing engagement.
MRF response to COVID-19
The MRF has made various adjustments in response to the COVID-19 pandemic. The first gathering of the Second Year Programme has been postponed while the team prepares to offer it online, and we will also consider this possibility for the mid-year workshop if necessary. In light of the closure of universities, the deadline for applications for the Class of 2021 has been extended to the 23rd of April. At the alumni level, we are conscious that the pandemic both affects us all on a human level and calls us to leadership in our various contexts. The team is hosting weekly online conversations for alumni to connect and strengthen our responses during this time. We are also working to connect those alumni working directly on the response in order to facilitate knowledge-sharing across contexts. In the face of the grave challenges presented by this global crisis, we have hope that the emergent responses will pave the path to an era of increased resilience and a deeper sense of shared humanity nationally, continentally and globally.
Share this article: