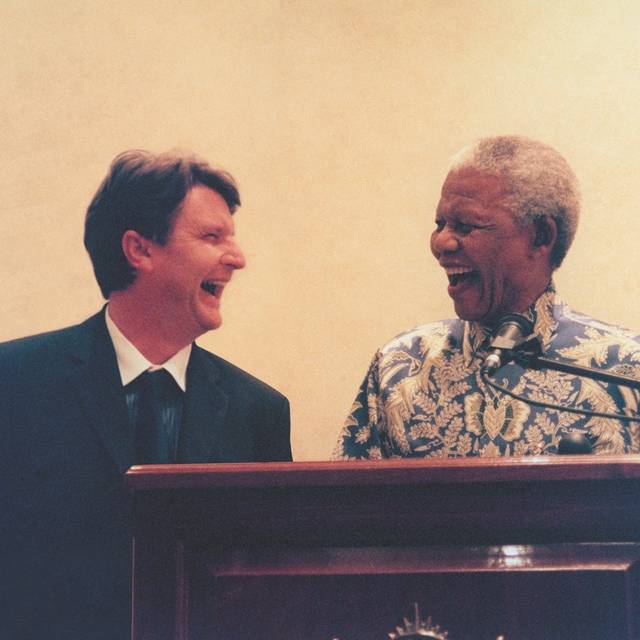 Foundation News
MRF Founding Executive Director Shaun Johnson passes away
The Mandela Rhodes Foundation is deeply saddened to announce that our Founding Executive Director Shaun Athol Johnson passed away on Monday the 24th of February 2020. Shaun died of natural causes in the early hours of the morning at his home in Cape Town, at the age of 60. He leaves behind his wife Stefania Johnson and daughter Luna Johnson.
A private ceremony will be held by the family where Shaun will be laid to rest. A public memorial service will also be held, details of which will be announced in due course. In the interim, the family thanks Shaun's many friends, colleagues and acquaintances for their care and concern and asks that their privacy be respected during this time.
The Mandela Rhodes Foundation has lost its leading light. Shaun was a person of tremendous vision, energy, wit, humility, humour and compassion. He poured all of these qualities tirelessly into building The Mandela Rhodes Foundation from the ground up, invigorated by Madiba's vision of changing Africa through its young leaders. Shaun's leadership was characterised by aspiring for the most audacious of goals, delivering to the highest standards of excellence, while inspiring and galvanising everyone around him. Through The Mandela Rhodes Foundation and his own example, Shaun made a great contribution to the realisation of the more humane world that Madiba dreamt of. He will be missed by all members of the Mandela Rhodes family: staff, Trustees, supporters, and of course his beloved Scholars.
The Foundation's Chairperson Professor Njabulo S. Ndebele, a long time colleague of Shaun's even prior to his time at the MRF said: "Shaun Johnson's untimely passing is an immense loss for The Mandela Rhodes Foundation and South Africa at large. Throughout his career, he pursued noble aims with great passion, determination and with a sincere intention to create a more humane world. The Mandela Rhodes Foundation is a Nelson Mandela legacy organisation, but it was Shaun who brought the idea to life and got the organization off the ground. His significant contribution to realising Madiba's vision will not be forgotten within the walls of the Foundation, nor in the spirits of the scholars he dearly loved and encouraged. The Trustees and staff of the Foundation send our most sincere condolences to his wife Stefania and daughter Luna."
Shaun was the Founding Executive Director of The Mandela Rhodes Foundation in Cape Town, South Africa, from 2003 until 2019. He was a renowned anti-apartheid journalist, editor, and executive, playing a key role in reporting on South Africa's transition to democracy. Shaun was a gifted author, whose first novel The Native Commissioner won the Commonwealth Writers' Prize for Best Book in Africa. Shaun also served as CEO of the Nelson Mandela Foundation in 2006. Shaun was a Rhodes Scholar, and served as Chairman of the Rhodes Scholarships Southern Africa Advisory Committee. He was recognised as a Distinguished Rhodes Scholar in 2019. Shaun was a long-serving member of Independent News & Media plc's International Advisory Board, Chairman of the Cape Town Partnership, and a Trustee of various charitable organisations.
The MRF's CEO Judy Sikuza, who worked closely with Shaun, said: "What Shaun has built in the name of Madiba and for the benefit of the African people will reverberate through the ages. But beyond that, it was his generosity of spirit, humanity and genuine faith in creating a better world through our Scholars that will remain in our hearts. Thank you for your love and belief in us as Mandela Rhodes Scholars, and specifically for your personal guidance and mentorship to me during the many years we worked together. Hamba kahle my brother. May your soul rest in peace."
---
A digital memorial of images and tributes to Shaun from Mandela Rhodes Scholars is available here.
Written tributes to Shaun Johnson can be sent to julia@mrf.org.za.
Share this article: