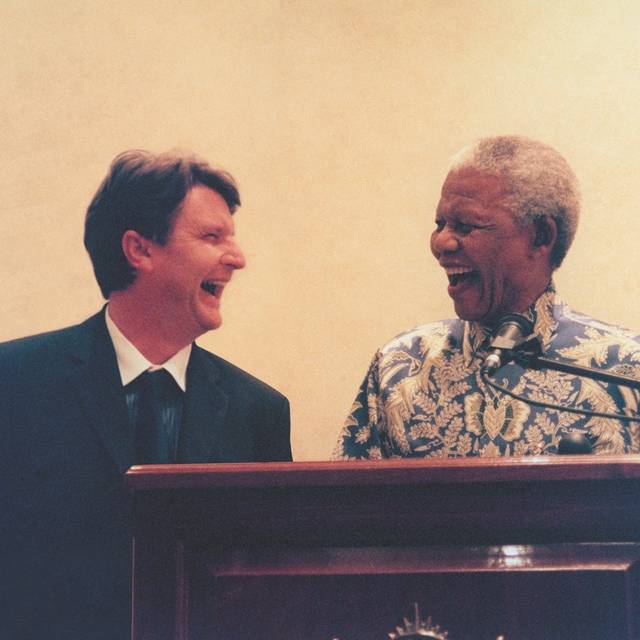 Foundation News
Founding Executive Director of the Mandela Rhodes Foundation to step down
The Board of Trustees of The Mandela Rhodes Foundation has announced that after more than 15 years at the helm of the organisation, its founding Executive Director Shaun Johnson has expressed his desire to step down in the course of 2019 and to pass on the baton of leadership.
Foundation Chair Professor Njabulo S Ndebele said the Trustees acknowledged with gratitude Johnson's 'outstanding record as Executive Director in building the MRF to its current renowned standing in its work to develop exceptional leadership in Africa,' adding that 'the achievements under his leadership are a fitting tribute to the vision of Nelson Rolihlahla Mandela and the Rhodes Trust.' He said the end of Johnson's long tenure 'signals another era of change and growth in the life of an organisation that has become a significant institution for leadership development in Africa.'
Johnson is an internationally-awarded author and former anti-apartheid journalist, newspaper editor and senior executive. He said it had been the greatest privilege of his professional life to be tasked with establishing a Mandela legacy organisation which has been able to create life-changing opportunities for so many young Africans across the continent.
At the time of announcing the choice of Johnson for the post in 2003, Mr Mandela told the media: 'I am delighted that Shaun has agreed to take up the challenge to begin to turn the ideals of The Mandela Rhodes Foundation into practical reality. He is a person I hold in the highest regard … [He] is himself a Rhodes Scholar and a young South African who as a journalist and public intellectual contributed enormously to the attainment and consolidation of democracy in our country.
'We are looking forward with great confidence to him building the new Foundation into an organisation that will in its field achieve as much as the Rhodes Trust has done over the last 100 years.'
In addition to the founding benefaction pledge from the Rhodes Trust in 2003 to mark its own centenary, highly successful fundraising campaigns under Johnson's leadership have placed the Foundation in a position of long-term financial sustainability.
The MRF has thus far awarded close to 500 Mandela Rhodes Scholarships to emerging young leaders from 26 African countries. A Mandela Rhodes Scholarship provides full financial support for postgraduate students, as well as a customised residential leadership development programme.
Johnson thanked the late Mr Mandela and founding Chair Professor Jakes Gerwel, as well as Professor Ndebele, MRF Trustees, volunteer Committee members and donors and supporters, who had given of their great experience and expertise and placed their confidence in him. They made possible for collaborative creation of a world-class African leadership development institution, fulfilling Mr Mandela's express wishes. Johnson also paid tribute to his 'small but totally committed and immensely talented MRF team, who will ensure that what we have built is in safe hands, ready for its next phase.'
As far as his own post-MRF plans were concerned, he said he had written to the board as follows: 'I will be turning 60, making it an appropriate time [to begin a new chapter in my life]. This very much includes giving attention to my sorely neglected first passion, which as you know is writing.'
Full information about the Foundation, its programmes and contact details may be found at www.mandelarhodes.org. The MRF Trustees indicated that a process to select a successor Executive Director was under way and that further announcements would follow at an appropriate time, with the intention of finalisation by mid-year.
Share this article: