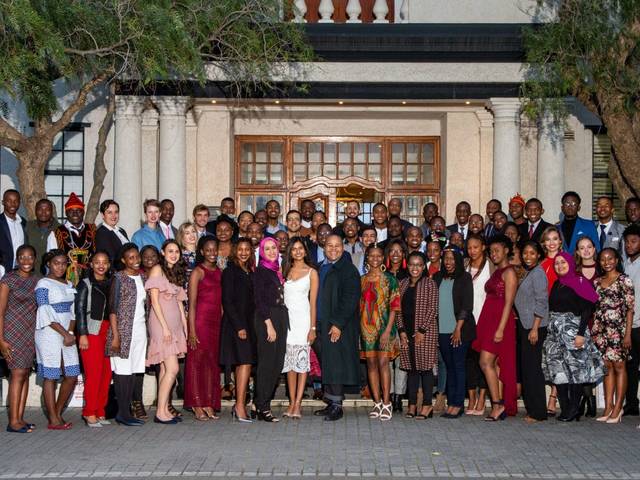 Foundation News
February 2018 update from the MRF
Although the political seas are tumultuous in South Africa in 2018 the good ship MRF has sailed smoothly through the waters thus far, I am pleased to report. All credit to my superb team at the Foundation. Team MRF has ensured that in the centenary year of our Founding Patron's birth (of which more later), the fundamentals of our flagship Scholarships Programme – and indeed all the Foundation's activities – are delivered to the usual highest standards.
Since my last update to you in December, the Introductory Workshops have been completed (see below), all administrative and governance matters are in hand, and we are working together at full tilt towards the July events.
The Class of 2018 Mandela Rhodes Scholars
As our Deputy Executive Director Judy Sikuza reports, the Class of 2018 comprises 70 Mandela Rhodes Scholars, the largest cohort to date. They are attending 10 different higher education institutions across South Africa, and the group is made up of students from 14 African countries. This year we have one 'new' African country of origin to add to our list of Mandela Rhodes Scholars, namely Ivory Coast. The Introductory Workshops were a great success, with the usual significant participation of Mandela Rhodes alumni. Current Scholars were also exposed to exciting inputs from invited guests Mr Parks Tau, Chairperson of the South African Local Government Association, and Ms Rebecca Sykes, President of the Oprah Winfrey Charitable Foundation. Scholars in residence are now back on their various campuses, but have the Regional Pod meetings to look forward to before the Mid-year Workshop.
Applications and selections 2019
The MRF team has held a comprehensive review of last year's successful applications and selections process, and some useful adjustments were agreed upon. The cycle for the process to select the Class of 2019 Mandela Rhodes Scholars will begin in mid-March, as in previous years, and the call for applications for the Leverhulme Mandela Rhodes Doctoral Scholarships 2018 will also be made. Watch the website!
The Centenary of the birth of our Founding Patron, Nelson Mandela
As I'm sure you are aware, July marks the Centenary of our Patron's birth and the MRF will be making its contribution to the worldwide celebrations with some special events in Cape Town. It will also be our Foundation's 15th birthday. A planning team under the direction of Judy is developing a compelling programme for mid-July which will bring together the Class of 2018, alumni, Trustees (who will be in Cape Town for their board meeting), staff and supporters. There will be great opportunities for the Mandela Rhodes family to socialise and catch up, to talk about myriad matters affecting us all and to situate the Foundation within that in terms of our thinking about the years ahead and what we should be aiming for. Please look out for communications from Judy's team and I am hoping that there will be strong interest among our wider community to be in Cape Town and join us at that time.
Share this article: