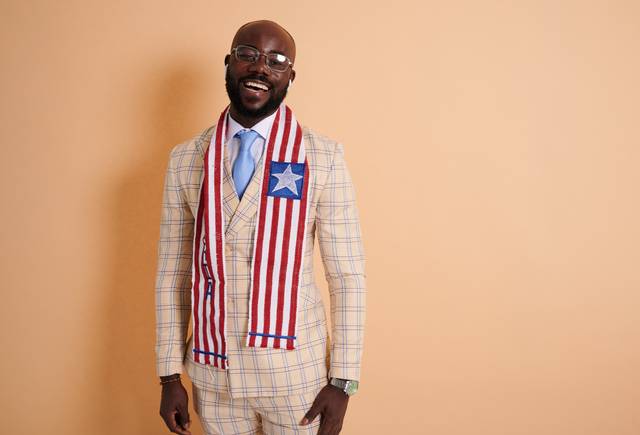 Scholar Stories
Made in the fire: From civil war to civil service
Meet Isaac Muapoh, the first Mandela Rhodes Scholar from Liberia.
The period between 1989 and 1997 in Liberia was characterised by a coup and a long, bloody civil war. During the first ceasefire in December of 1993 Isaac Muapoh was born. His parents fled their home in Monrovia, Liberia's capital, for a small village in Grand Bassa County. Isaac is the last born of four children. At the end of the war Isaac's family returned to Monrovia and he and his siblings continued their education, a feat which he attributes to his mother's hard work and sacrifices.
Throughout the interview for this profile, Isaac speaks about the urgency of bringing an end to corruption, and he strongly advocates for an educated population to bring about the changes the continent needs. As of 2017, the adult literacy rate in Liberia stood at 48.3%. That same year, during his undergraduate, Isaac established an organisation called Educate the Next Generation. Its flagship programme is the Liberia Valedictorian Programme and it brings top scholars together to teach them about leadership and how to serve the country.
Isaac comes across as confident and assertive, at home expressing himself and sharing about his journey. As a high school student his strong academic performance gave him popularity amongst his peers who pushed him to go after leadership positions. In 12th grade he was elected president of his graduating class and valedictorian of the school. Isaac hoped to study towards medicine, but money was tight. After two years struggling to raise the funds to gain admission, he decided on a new plan. He asked his mother for enough money for one semester, hoping that he would find a way to continue. The answer came by way of student politics: Isaac was elected deputy president of the student body, allowing him to access a scholarship. He changed from chemistry to public administration because it was more affordable. Isaac began to enjoy learning about governance, policy and leadership.
Student politics is turbulent. During his undergraduate studies Isaac was in the thick of it: contesting elections, ruffling the feathers of the school administration, protesting fee increases and courageously leading sit-ins calling for accountability. A full circle moment came when he was elected the Secretary General of the Liberian National Student Union. This was monumental. "I could have a voice in national decision-making because as Secretary General I was being invited to all major discussions across the country," he explains. Justice is important to Isaac because of Liberia's history of civil crisis and its place as the oldest yet most under-developed nation state in Africa. Motivated by what he sees as a development skills vacuum, Isaac is pursuing development studies as a Mandela Rhodes Scholar. "There's a huge need for development but unfortunately many Liberians don't have the capacity to lead development. Our policies and our developmental drafts are led by expatriates." He feels he could make an impact, especially in the area of resource management.
On leadership and what drew him to the MRF, Isaac says, "I am a believer in the African dream and that's what I want to strive for. The MRF encompasses leadership." He believes that competent leadership is all that stands between Africa and its potential. Isaac is a self-confessed type A personality, and he says that his Enneagram result of type 1 ("the strict perfectionist") validated what he already knew about himself. He did however object to being described as controlling, in favour of the word 'influential'.
When asked if he one day plans to be the president of Liberia, Isaac says that's not at all his goal. He wants to do his bit in changing people's perspective of leadership and to improve public service. In the coming years he plans to mobilise young people and instil in them the knowledge that "the country will change if we have people of merit in public service, people who are morally upright and, people who know what it means to serve your country with dignity and pride."
Share this article: