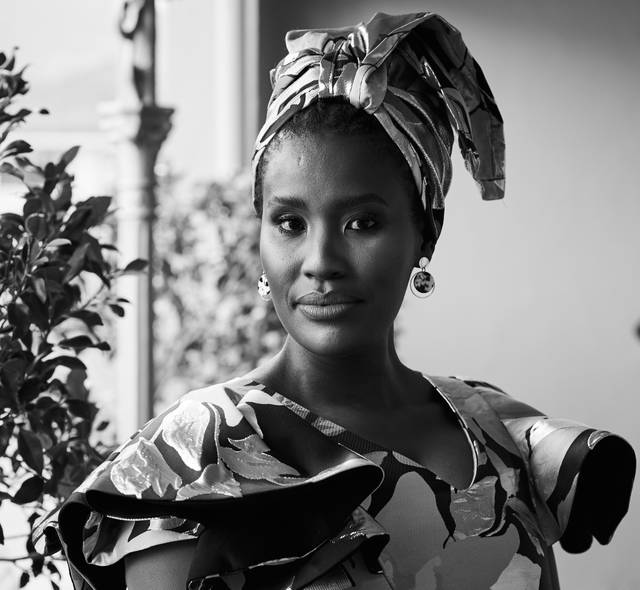 Scholar Stories
Making magic with actor Masasa Mbangeni
Masasa Mbangeni's IMDB page has 13 credits, three nominations and two awards. This quantitative assessment of her 12-year acting career, while impressive, does not fully represent her talent and impact on the film and television industry. This 2009 scholar from Gqeberha, Eastern Cape, has diligently carved out for herself a stellar acting career on stage and on screen. Among her most significant roles are Thembeka Shezi, the villain audiences loved to hate on the TV drama Scandal as well as being cast as the youngest actress to ever play Queenie in the Athol Fugard play Nongogo. Her email signature is a Mother Theresa quote: "Let us meet each other with a smile for a smile is the beginning of love". This radical humanity and openness is precisely the feeling one gets in an exchange with Masasa. Her heart sits bold on her sleeve.
In person Masasa gracefully towers over most people but her presence never feels imposing. At the Äänit Prize awards in October, she co-hosted the live broadcast alongside CEO Judy Sikuza. She participated generously, going to great lengths to get her parts just right and having a sense of humour when things didn't go smoothly. The interview for this profile took place two weeks later over a video call; Masasa freed up time from a busy schedule shooting the Mzansi Magic TV drama The Republic.
Conversations with Masasa are a treat. Like a daytime talk show host, she is able to tap into the universal human frequency. It comes as no surprise that she cut her teeth at the WITS School of Dramatic Arts, where she obtained her post-graduate qualification as a Mandela Rhodes Scholar. She shares fond recollections of her time in residence. Her cohort had explosive debates, at a time when much of the vocabulary for social issues was not yet readily available, but these debates were governed always by deep love [for one another]. "We came from different fields, but the common denominator was passion. I don't know how our selection panel got it so spot on, but everyone was so passionate and driven," she says.
Masasa credits her time as a scholar for the strength to pursue her career with vigour. She says she was afforded the opportunity to build her self-awareness muscle as well as ponder the big existential questions regarding her path. She confides, "My profession is incredibly cut-throat and incredibly hard. It requires a resilience that, had I not been in the MRF programme, I don't think I would have been able to endure. My residency helped me grapple with my own shadow: sides of me that I did not realise were not cute."
Masasa holds a deep affection for acting. Even as an eight-year-old going on stage for the first time, the craft felt safe and familiar, as though she had done it in a previous lifetime. "The joy that I feel when I'm on stage, I can't explain it to anyone. It feels like that first breath of a child. It's sore and it's uncomfortable but it's a sign of life," she says sincerely. Masasa's most enduring performance in a role, that of Thembeka Shezi, earned her a South African Film and Television Award and a Royalty Soapie award. She says that this has led her to being type-cast as a villain or a stern character. Audiences struggled to see her as anything else. While she resented this at first, she later let it go. She says "People have let you into their homes, to be a part of their families every day. So it shows an appreciation for your work and for your gift." Her exit from Scandal happened through the death of her character and coincided with other things in her real life also coming to an end. It felt symbolic and timely, and she felt that people embraced her new beginning.
The conversation segues into the importance of guidance and mentorship. Since Masasa's time in residence, fellow actress Sibulele Gcilitshana has mentored her, which she says has made her feel carefully held. Having access to this mentorship has kept her safe. "She's taught me that I lose nothing by holding space for a younger actor." Masasa too makes a concerted effort to pay it forward for young actors, especially women.
Even as a decorated actress, Masasa has battled imposter syndrome. She couldn't fully believe in her own excellence. Imposter syndrome is a psychological pattern in which a person doubts their accomplishments and has a persistent fear of being exposed as a fraud. Her initial weapon in fighting this was to turn to bravado, but growing older pushed her towards a deeper introspection, realising that this strategy is unsustainable. Therapy helped her unearth the root cause of her imposter syndrome. "As a child I felt too scared to exist in this world and the drama and acting gave me chance to go, I might be too scared, but this character might not be. So let me live it out through them," she says. This too became unsustainable when the pandemic blocked that outlet. A more sustainable model is self-compassion: ac-knowledging these feelings of inadequacy, giving them room to be and gently asking them to go. As a result of this journey today Masasa is an advocate for therapy.
Fame is fickle, and so is the film and TV industry. Cultivating strong relationships with family and friends is key to helping Masasa stay in her magic. She muses, "If I've forgotten my heart's song, they've always sung it back to me." This sense of familial belonging is central to how Masasa constructs her public persona. On social media, she goes by MaDlomo, a name that refers to her clan. "[Calling myself] MaDlomo means that I am not walking alone. When I say I am MaDlomo I am saying that I'm here in all of my entirety: there's a whole line of people who sacrificed and passed on their resilience to me."
Masasa's journey has moulded her into a courageous artist who also keeps a steady grip on being human. She is currently in her second year of studying Psychology. She pursued this out of a curiosity about people and herself, and to learn what other possibilities life may hold. She says her studies have enriched her work as an actor. As to whether the future holds a shift to practising psychology, she says this is a developing story.
Share this article: