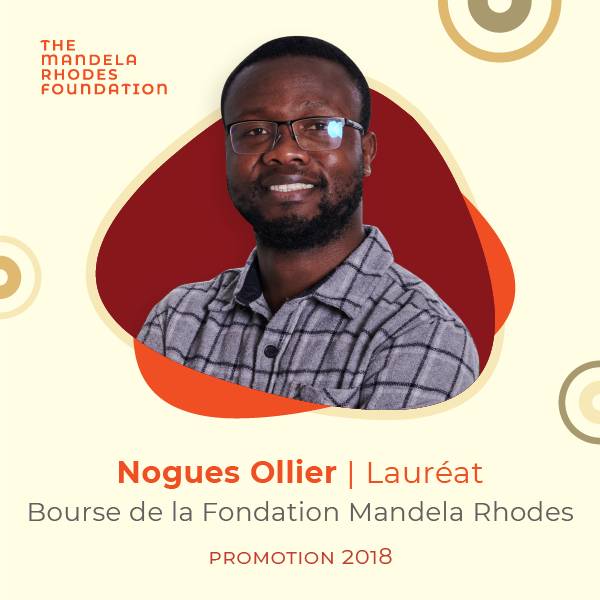 Scholar Stories
My story of MRF impact: Nogues Ollier
Je suis de nationalité Ivoirienne. En 2018 j'ai bénéficié d'une bourse d'étude de la Fondation Mandela Rhodes, pour poursuivre mes études de Master en énergies renouvelables. C'est une bourse tous frais payés qui est ouverte aux jeunes Africains âgés de 19 à 29 ans, pour des études supérieures de Master en Afrique du Sud, et qui a pour vision de bâtir une capacité exceptionnelle de leadership en Afrique.
En plus de l'assistance financière, c'est le programme de développement de leadership qui m'a marqué le plus. A travers ce programme, j'ai eu l'opportunité de collaborer avec de brillants jeunes originaires de plus de dix pays Africains, ce qui m'a permis de développer mon aptitude d'adaptation aux environnements multiculturels, d'agrandir et diversifier mon réseau social. Le programme de leadership m'a tout d'abord permis de redécouvrir et mieux connaitre ma personnalité, et par son volet entreprenariat m'a équipé de divers outils de résolution de problème, avec une conscience des multiples aspects complexes de la société. Aujourd'hui, je vois le monde avec une perspective différente, et nourrit la passion de mettre mes compétences en œuvre pour promouvoir l'Afrique et contribuer au développement de la société. J'exerce en tant que consultant en énergies renouvelables où je contribue fortement au développement durable et à la transition énergétique en Afrique et dans le monde, par les études de faisabilité et autres assistances techniques. Jusqu'à ce jour, j'ai pu intervenir sur des projets dans quatorze pays Africains, y compris des missions de terrain en Afrique du Sud, en Zambie et au Burundi. J'encourage donc plus de jeunes Africains à postuler à la bourse de la Fondation Mandela Rhodes, pour mieux s'équiper à affronter les défis auxquels l'Afrique fait face. Nogues Ollier Lauréat, Bourse de la Fondation Mandela Rhodes, promotion 2018.
ENGLISH TRANSLATION
I am a citizen of Côte d'Ivoire, and in 2018 I obtained a Mandela Rhodes Scholarship to further my Masters studies in renewable energy. The scholarship covers all costs and is open to young Africans aged 19 to 29, to further their studies at post-graduate level in South Africa, with a vision to build exceptional leadership capacity in Africa.
Besides the financial assistance, it is the leadership development programme that stood out to me the most. I had the opportunity to collaborate with bright young individuals from more than ten African countries, which allowed me to develop my ability to adapt to multicultural environments, and to broaden and diversify my social network. The leadership programme allowed me to rediscover and know my personality better, and through its entrepreneurship aspect, it equipped me with various problem-solving tools, with an awareness of the multiple complex aspects of society.
Today, I see the world with a different perspective and aspire to use my skills to promote Africa and contribute to the development of society. I am employed as a consultant in renewable energy where I contribute to sustainable development and the energy transition in Africa and the world, through feasibility studies and other technical assistance. I have been able to intervene in projects in fourteen African countries, including field assignments in South Africa, Zambia and Burundi. Therefore, I encourage more young Africans to apply for the Mandela Rhodes Scholarship to better equip themselves to tackle the challenges facing Africa. Nogues Ollier, recipient of the Mandela Rhodes Scholarship, class of 2018
Share this article: