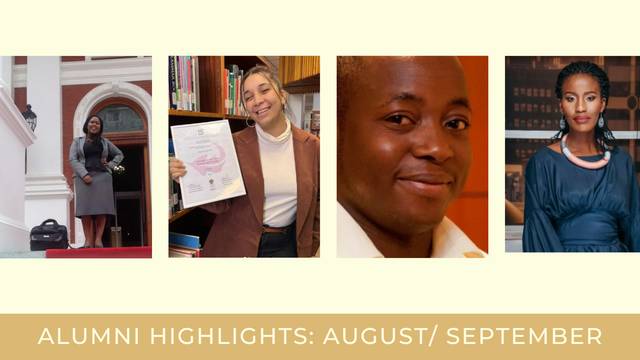 Young African Magazine
Alumni Highlights: August/ September
Mandela Rhodes Scholars continue to lead in big and small ways in each of their chosen areas of influence. We take this opportunity to highlight those who are making waves and doing interesting and impactful work. Keep doing what you are doing!
Zukiswa Mqolomba (South Africa and University of Cape Town, 2010) is no stranger to alumni highlights. This time we are shining a light on this public sector leader for being appointed by president Cyril Ramaphosa as the Deputy Chairperson and National Commissioner of the Public Service Commission of South Africa (PSC). The PSC is an independent body that is empowered to exercise oversight over the public service in South Africa by investigating, monitoring, and evaluating its organisation and administration. Zukiswa brings to the position more than 12 years experience in Public Service. She is an economics researcher, policy analyst and programme manager rooted in economics, poverty, and public policy research.
Delecia Davids (South Africa and Stellenbosch University, 2020) has had a great deal to celebrate recently. Not only was she voted the Lecturer of the year by students in the faculty of Education at Stellenbosch University, but she also published a paper in the Journal of Student Affairs in Africa. Her article titled: "A Morphogenesis Account of Student Leaders' Development of their Agency in their Undergraduate Residences at Stellenbosch University" offers an account of the development of student leaders' agency within the institutional culture of their residences at Stellenbosch University (SU).
Prof. Syden Mishi (Zimbabwe & University of Fort Hare, 2010) was honoured at the National Research Foundation (NRF) awards ceremony earlier this month. He scooped the award for Research Excellence for Early Career / Emerging Researchers in the Social Sciences, Humanities and Law category. These awards provide a platform for new and emerging researchers to be inspired and to experience first-hand what it takes to become a recognised scholar, as part of the transformation agenda. Syden's areas of teaching and research are applied microeconomics; microeconomics theory; behavioural and experimental economics; game theory; industrial organisation; institutional economics; and finance.
Masasa Mbangeni (South Africa and University of Witswatersrand, 2009) has been cast as Mbali Kaleni in the upcoming five-part crime thriller series, Devil's Peak. The series, which is being filmed in Cape Town is produced by Lookout Point and Expanded Media Productions for BBC Studios and MultiChoice Studios. The show is set to air in 2023 and will be premiering on M-Net in Sub-Saharan Africa. Masasa is best known for her roles in TV shows such as Scandal and The Republic.
Share this article: