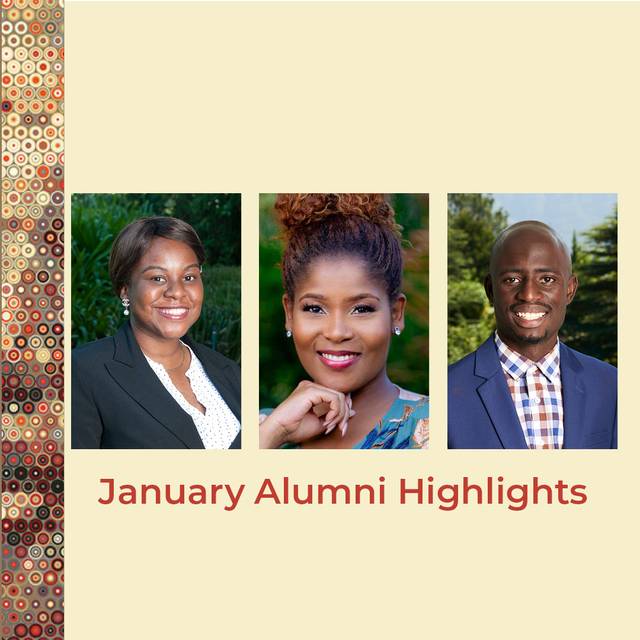 Young African Magazine
Alumni Highlights: January
Witnessing Mandela Rhodes Foundation alumni achieve their goals and reach milestones in their journeys is a great source of pride for us. In the month of January, 3 young leaders had their efforts affirmed and we would like to highlight them for their courageous steps in embodying excellence.
Melody Asukile (Zambia & University of Cape Town, 2016) is one of a new crop of very few Neurologists in Zambia; having concluded her studies at the end of 2020. This January she published a paper in Neurology.org, a publication under the American Academy of Neurology. The title of her paper is "Evaluating the Efficacy of an Online Learning Tool for EEG Teaching". Speaking on the Sharp Waves podcast about why she chose this field, Melody said "I always had an interest in neurology. It stemmed from personal experiences in my life – my young sister lives with epilepsy and also later, at the end of my junior residency, I also had a neurological condition. So I'd always been asking questions about neurology."
Rachel Nyaradzo Adams (Zimbabwe & University of Cape Town, 2006), who is the Founder of consulting firm, Narachi Leadership that serves clients in the areas of leadership development, strategy and process mapping announced that she had joined Inc. Africa as a thought leader. She will be contributing monthly pieces on leadership and self-development. You can read her first article which is live on the online publication and is titled "The Key to Authentic Power is Self-Acceptance".
Kudakwashe Manjonjo (Zimbabwe & University of the Witwatersrand, 2019) will be starting his PhD journey as a Canon Collins scholar. This scholarship organisation supports efforts to bring about social change and equality in Southern Africa. Regarding the focus of his work, Kudakwashe said "I want to study the Zimbabwean financial system from the eyes of money changers with the aim of laying down an agenda for economic justice using a leftist, feminist, political economy lense".
To these 3 young leaders we say onwards and upwards and we look forward to seeing them and other scholars in our community continue to thrive.
Share this article: