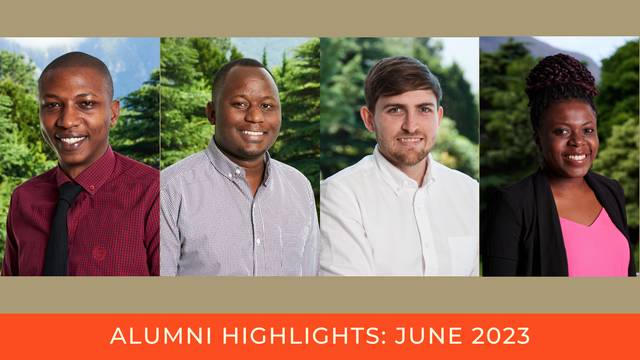 Young African Magazine
Alumni Highlights: June 2023
The Mandela Rhodes Foundation community comprises of over 600 seeds of change who are making a difference and embodying leadership where they are. It brings us pride to highlight alumni who have accomplished greatly recently.
Dr Ryan Gitau Nyotu (Kenya and UCT, 2018) has been appointed by Kenya's Cabinet Secretary of Health to serve as the first-ever division head for Digital health in the Directorate of Digital Health, Informatics, Research and Policy at the Ministry of Health. He is tasked with implementing the Comprehensive Integrated Health Management system in Kenya starting with the Health Information Exchange that seeks to enable greater interoperability between health systems.
Bhekumuzi Dean Bhebhe (Zimbabwe and Wits 2018) was named among Treeshake's 50 Eco- Advocates speaking up for climate change. Treeshake recognises advocates who fight for change and lead the way, the journalists and media who inform and educate, the researchers and academics who deepen our understanding, the policy influencers who shape our laws and regulations, and the entrepreneurs who innovate and create new solutions. Bhekumuzi is the Campaigns Lead at Power Shift Africa, whose passion for the environment is deeply rooted in his upbringing in a quaint village in Zimbabwe. As droughts and food shortages began to plague the village, Bhekumuzi realised that climate injustice was at the root of their suffering and has committed himself to being a voice for the voiceless and advocate for the future of our planet.
Novelist, poet and editor Nick Mulgrew (South Africa and UCT, 2015) launched his latest novel, Tunnel. The book is about ten people who drive into a tunnel through the Cape mountains – and find themselves trapped. As their limited supplies dwindle, what do they do? Where can they go? What will they find? Tunnel burrows deep into the psychologies and coping strategies that connect and disconnect these protagonists in a dark, tense and compelling human drama. In addition to his writing, Mulgrew is the founder and director of the poetry press uHlanga. In 2016, he received the Thomas Pringle Prize, and, in 2018, the Nadine Gordimer Award and a Mandela Rhodes Scholarship. His debut novel, A Hibiscus Coast, won the 2022 K Sello Duiker Memorial Award.
Dr Zayithwa Fabiano (Malawi and Wits, 2021) published a paper in the American Journal of Case Reports titled "An Initially Missed Diagnosis of Venous Thromboembolic Phenomenon in Adult-Onset Still's Disease: A Case Report and Literature Review". This research contributes towards a better understanding of the pathophysiology and features of the presentation of the relatively rare Still's disease. Zayithwa is an Internal Medicine Resident at Chris Hani Baragwanath Academic Hospital in Johannesburg.
Share this article: