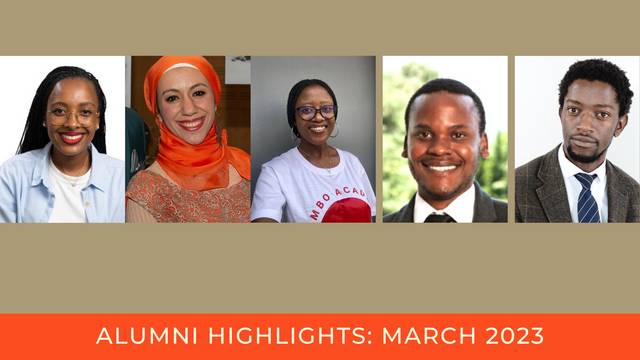 Young African Magazine
Alumni Highlights: March 2023
We are once again in applications season. And as we invite a new crop of young Africans to apply for their spot in the Mandela Rhodes Foundation class of 2024, we would also like to take the opportunity to shine a light on members of our community who are doing excellent leadership work in their respective fields.
South African Tech entrepreneur makes Forbes 30 under 30 Europe
Lethabo Motsoaledi (South Africa & University of Cape Town, 2016) has been named as one of Forbes 30 under 30 Europe in the Technology category for 2023. This list honours bold founders, leaders and entrepreneurs who have launched companies that break new ground on a myriad of issues. Lethabo is the co-founder and Chief Technology Officer of Amsterdam-based Voyc. Using speech analytics software, Voyc enables companies to monitor contact centre interactions with the aim of improving operational inefficiencies, catching complaints, identifying vulnerable customers, and delivering an exceptional customer experience.
Egyptian researcher advocates for the health concerns of African Youth
Representing the North African region, Reem Yehia Elsayed (Egypt & University of the Western Cape, 2018) is one of the five African youths who were appointed members of the Youth Advisory Team for Health (YAT4H) by the Africa CDC (the Africa Centres for Disease Control and Prevention). The YAT4H team will serve as representatives of the African youth and will help ensure that Africa CDC's strategies and initiatives are inclusive and adequately address young people's health concerns. Reem is a researcher and policy specialist who works for the General Authority for Health Care of the Arab Republic of Egypt.
Zimbabwean entrepreneur recognised for her leadership role
Chido Dzinotyiwei (Zimbabwe & University of Cape Town, 2018) was recognised as 1 of 50 Rising Motherland Moguls in Africa by SheLeadsAfrica.Org. The list comprises of women nominated by the SheLeadAfrica community as the leading and rising stars of Africa. Included are entrepreneurs, activists, artists and scientists who are creating positive change in Africa and beyond. Chido is the Co-founder of two start-ups. Vambo Academy, an educational technology platform that digital resources to offer African language learning, translation and knowledge services, and Akayi, an ecosystem enabler for the Zimbabwean business ecosystem.
Three Mandela Rhodes Scholars announced in the 2023 cohort of International Strategy Forum (ISF) Fellows
Last month, Schmidt Futures announced the 2023 cohort of International Strategy Forum (ISF) Fellows during the first annual Global Summit and among this list were 3 Mandela Rhodes scholars; Rekgotsofetse Chikane (South Africa & University of Cape Town, 2015), Sizwe Mkwanazi (South Africa & University of Johannesburg, 2015) and Lethabo Motsoaledi (South Africa & University of Cape Town, 2016). Composed of four regional cohorts, the 117 new Fellows convened in California from February 12-16 to commence their 11-month-long ISF Fellowship. The program is designed to build an interdisciplinary network of rising leaders and to strengthen democratic values, collaboration, and security as technology reshapes our world. Rekgotsofetse is an Associate ResearcherAssociate Researcher at Wits Institute For Social And Economic Research as well as a lecturer at the University of Witwatersrand and Sizwe has a PhD from the University of Oxford and is a lecturer at the University of Johannesburg.
Share this article: