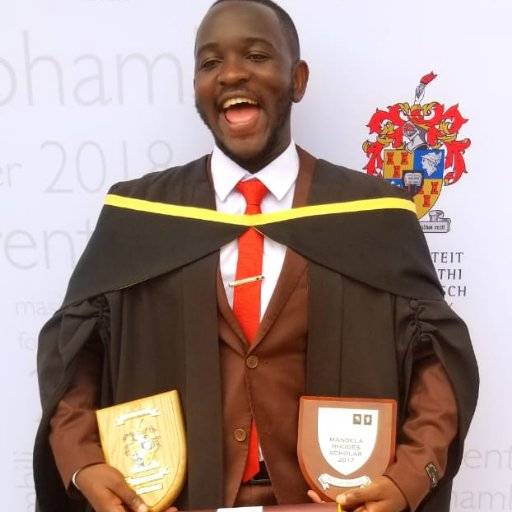 Young African Magazine
Alumni Highlights: September
Mandela Rhodes Scholars are changemakers in their respective industries. This month both scholars highlighted are engineers who are displaying courageous leadership and innovation in the field of climate change and sustainability.
Hlumelo Marepula – SDGs Africa Summit Research Award
Civil engineering masters candidate, Hlumelo Marepula (South Africa & University of Cape Town, 2020) won top honors at the "Sustainable Development Goals Africa Summit" hosted by the University of Capetown for her research on recovering and purifying urea from human urine to produce fertiliser and potentially diesel engine fluid with water as a by-product. She explains that "urea is an important source of nitrogen with more than 90% of the world's synthetic urea used as fertiliser". An alternative method of producing urea, like the one Hlumelo has investigated cuts down on energy consumption, greenhouse gas emissions and costs while also using waste streams in a more circular economy approach. This competition was open to master's and doctoral candidates and received submissions from as far afield as Netherlands, Hungary, Australia and the United Kingdom. The summit's primary focus was the United Nations SDGs of which Hlumelo's solution addressed multiple; including responsible consumption and production and zero hunger.
Bovinille Anye Cho – Commonwealth Scholarship Commission Research Impact Awards
Chemical Engineering doctoral candidate, Bovinille Anye Cho (Cameroon & Stellenbosch University, 2017) is the winner of this year's annual topical prize for climate change related research for his research paper which was published in Biotechnology and Bioengineering. Bovinille is pursuing his PhD at the University of Manchester and the paper that earned him this accolade is titled "Synergising biomass growth kinetics and transport mechanisms to simulate light/dark cycle effects on photo-production systems". In layman's terms his research investigates how to better substitute the use of fossil fuels for our energy demands with bioenergy derived from direct sunlight and waste organics. To optimise productivities, he proposes the first mechanistic model aimed at alleviating light attenuation in these specialised types of bioreactors, namely photobioreactors. This annual award is offered to promote the important research undertaken by doctoral Commonwealth Scholars and Alumni and its value to international development.
Share this article: