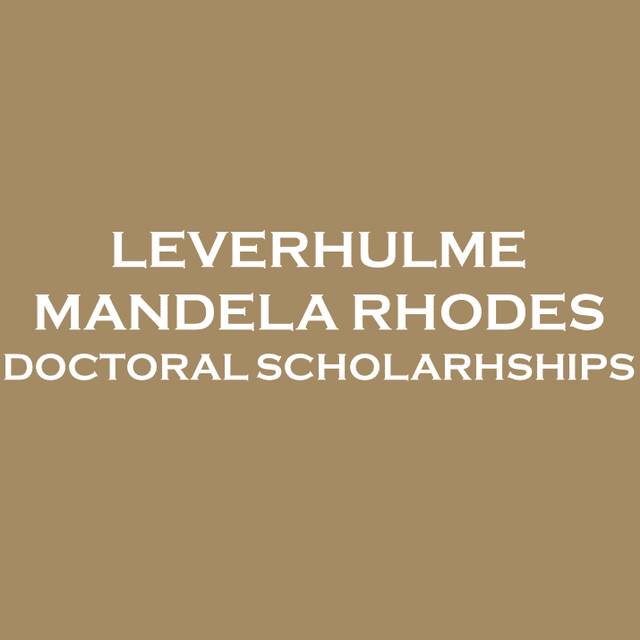 Foundation News
Announcement: Major new awards open to the Mandela Rhodes Alumni
Dear Mandela Rhodes Scholar
I share with you today some wonderful and historic news for the Mandela Rhodes family.
After extensive discussions, The Leverhulme Trust – one of the earliest and most significant supporters of the Mandela Rhodes Scholarships programme – has decided to fund additional MRF academic awards, above and beyond their gifts to the existing Scholarships programme.
The new awards will be for doctoral study in the United Kingdom
They will be competed for exclusively by Mandela Rhodes Scholar alumni
They will be known as Leverhulme Mandela Rhodes Doctoral Scholarships
Giving formal confirmation of The Leverhulme Trust's decision, Trust Director Professor Gordon Marshall said that awardees will be nominated by The Mandela Rhodes Foundation following a selection process that is yet to be finalised.
In the inaugural year, two Leverhulme Mandela Rhodes Doctoral Scholarships will be made available. The programme will then be reviewed annually.
Each new Doctoral Scholarship will support an eligible MR Scholar at a recognised institution of higher education in the UK, and will cover the agreed costs of fees, maintenance and research.
It is important for prospective applicants to note the following statement by Professor Marshall, which is wholly endorsed by the MRF in terms of our own founding principles as approved by our late Patron Mr Nelson Mandela, and the Board of the MRF. He writes: 'The Leverhulme Trust Board would like to reiterate its aspiration that awardees should be strongly encouraged to make their future contributions on the African continent.'
It is our hope that the necessary structures and processes can be put in place in time for a call for applications in early 2017, with the first Leverhulme Mandela Rhodes Doctoral Scholars taking up their awards in the course of that year.
PLEASE MONITOR OUR WEBSITE www.mandelarhodes.org FOR DETAILS IN DUE COURSE
In the meantime, if Mandela Rhodes Scholars wish to register their interest in principle, address a short message to me at ceomrf@mandelarhodes.org.za and we will note your latest details.
Share this article: