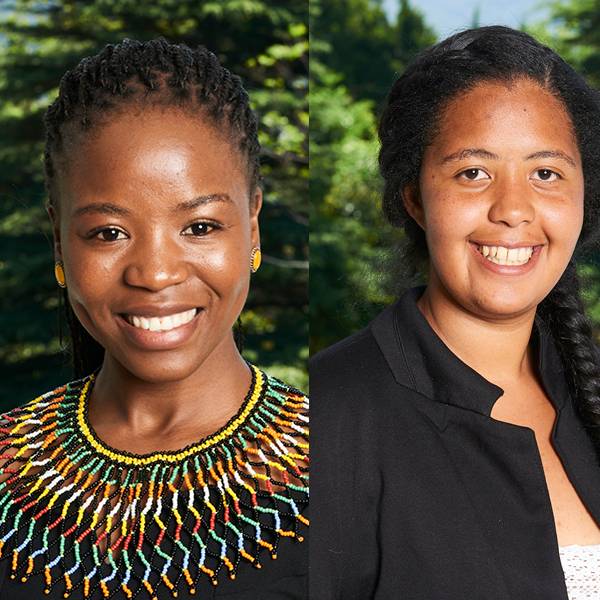 Foundation News
Introducing the Shaun Johnson Memorial Scholars of 2023
The MRF is delighted to announce the recipients of the 2023 Shaun Johnson Memorial Scholarships for doctoral study in the UK. The successful candidates are Pinky Mokwena (South Africa & Tshwane University of Technology, 2019) and Sheena Talma (Seychelles & Rhodes University, 2017). The pool of applications was strong as always, and we are certain that Pinky and Sheena will conduct doctoral research of exceptional quality.
Pinky Mokwena: Improving sub-Saharan Africa's defence against antimicrobial-resistant bacteria
As communities grow and populations advance in their civil and industrial revolutions, so do the greatest threats to human health - antimicrobial-resistant (AMR) bacteria. Despite these threats, the World Health Organization has confirmed that Africa and Southeast Asia are two of the main global regions where surveillance systems, standard methodologies, and quality data on trends are most lacking. Given the current research reporting in this field, a staggering 4.95 million global deaths in 2019 were associated with bacterial AMR; where sub-Saharan Africa held the highest burden, at 27.3 mortalities per 100 000 deaths attributable to AMR annually. In her PhD program, Pinky will work to investigate the water solubility of a novel series of ionophoric molecules that could aid in the silent pandemic of antimicrobial resistance in clinical treatments of pathogens. This research has the potential to revolutionise the current field approach to synthetic ionophore designs and the translational potential of this technology.
More about Pinky
Pinky will be pursuing her PhD in Chemistry at the University of Kent. She is a Master of Applied Sciences graduate from Pretoria. She is a spoken word artist and a radio presenter for Impact Radio (103fm) in Tshwane. In her second year of study, she was the City of Tshwane's first-ever Inter-Varsity Innovation Challenge winner, which saw her water-treatment academic research commercialised and registered as a patentable invention. Her company, Metsi a Teng (pty) Ltd got the endorsements of the Innovation Hub and several global awards such as the International Blue Ocean Award (France), FameLab (UK), COP 26 (Italy), Global Citizen, and the Women in Supra molecular Chemistry network (UK, Ghana). As a founder and visionary, she has seen the value of collaborating with others in order to drive the change we want to see in the world
Sheena Talma: Investigating biodiversity and socio-cultural importance of deep-sea ecosystems
Seychelles and the surrounding coastal African states are highly dependent on an ocean that is healthy and resilient. However, growing pressures to exploit their oceans for fisheries, oil and gas, and minerals threaten one of the major habitats that we know little about: the deep sea. The deep sea makes up more than 95% of the habitable space on our planet. This environment is vital as a refuge for economically important fish species, for the regulation of our climate, and for the discovery of medical products for our societal health. Yet, little of the research undertaken within the Indian Ocean is being conducted by African scientists. Expeditions are dominated by scientists from more developed countries with the financing and technology to research the deep ocean. Often missing from these research endeavours is appropriate engagement with African researchers, and in cases where African researchers are included they rarely have positions of responsibility and leadership that would allow them to independently replicate such efforts in the future. Sheena's proposed interdisciplinary PhD project will investigate, for the first time, the biodiversity and socio-cultural importance of poorly-known deep-sea ecosystems situated 0- 2000m deep in the Indian Ocean. Her work will provide critical information to aid ongoing efforts to meet global conservation targets including 30x30 and the High Seas treaty.
More about Sheena Talma
Sheena will be pursuing a PhD in biodiversity and the socio-cultural importance of deep-sea ecosystems at Oxford or Exeter University. Sheena is a marine biologist with a keen interest in learning more about the dynamics and relationship between people and the ocean. She is especially interested in how these dynamics change with the growing symptoms of climate change, overfishing and pollution. Her career has exposed her to many contexts. She has worked with the government, on research ships with NGOs, ran educational camps for children, ran her own business as a marine biology consultant, lectured at the University of Seychelles, become a National Geographic Explorer advocating for better science practices in our ocean space and contributed her scientific expertise to an internationally binding ocean treaty to have better governance on the high seas.
About the SJMS
The Shaun Johnson Memorial Scholarships were previously known as the Leverhulme Mandela Rhodes Doctoral Scholarship and renamed in 2020. The programme invites the MRF, after a rigorous selection process culminating in final interviews, to recommend two Mandela Rhodes Alumni to our partners The Leverhulme Trust in London. The Leverhulme Trust then assumes financial responsibility for doctoral study at a recognised UK institution of higher learning.
This opportunity is only available to alumni of the MRF, making it a very compelling and prestigious supplementary offering to the Mandela Rhodes experience. We greatly appreciate The Leverhulme Trust's ongoing support which enables our exceptionally talented young academics to take the next steps on their leadership and academic journeys.
Share this article: