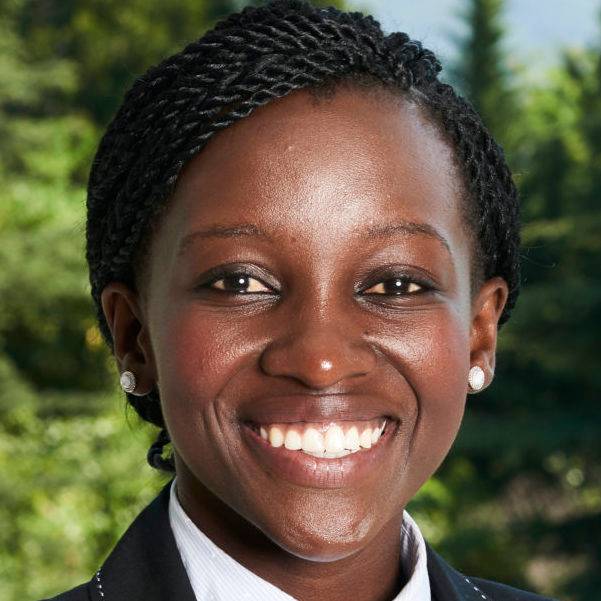 Inside the Programme
My Mandela Rhodes Experience in the Class of 2019
Q&A with 2019 Scholar Audrey Mabiza (Zimbabwe & University of Cape Town)
Q: What were you studying during your year in residence?
A: Initially I was studying a Masters in Engineering Management at the University of Cape Town, but then I switched to Chemical Engineering.
Q: How would you describe your year as a Mandela Rhodes Scholar?
A: When I look at the 2019, I get an overwhelming feeling of gratitude. I have a lot to be thankful for and one of those things is being accepted to be a Mandela Rhodes Scholar.
Q: How was the application and interview process for you?
A: So, let me start where all things start — the beginning. My friends encouraged me to apply, and I remember updating them each time my application made it to the next stage. Then came the interviews. I was a nervous wreck, but I decided that I would just be myself because that is the best I have to offer at any given time — myself. During the interview round I was privileged to meet other brilliant individuals from across Africa. I remember being in awe of the things that these young minds were achieving all for the betterment of Africa. I must admit, being surrounded by such brilliance made me feel like an imposter. The interviews came and went and somehow, I succeeded and had to get ready for the next stage of the journey: being a Mandela Rhodes Scholar.
Q: What was the most surprising part of your journey as a scholar?
A: The focus on the self!  Coming in, I thought we would tackle global issues. From the first day as a Mandela Rhodes Scholar the journey focused on the individual. I can see now that it is important because on the journey to being change-makers on the continent, we have to make sure that we are pouring into Africa from full cups.
Q: What was the most frustrating part of the journey?
A: My visa application process took longer than expected and that meant I had to miss the first workshop. This was very frustrating, because although I knew I was a scholar, I did not feel like a scholar for the first few weeks of my time as a postgraduate. I felt that I had missed out on a chance to make friends and valuable connections at the workshop.
Q: What were some highlights from the workshops you attended?
A: There are several highlights from the workshops, but I will focus on two.
During our reconciliation workshop we dealt with the meaning of reconciliation both on a personal level and on a global level. Tackling reconciliation on a personal level was very eye opening. It allowed me to understand myself better in that I was able to reconcile the person I was in the past with the person I am currently. I also learnt that self-reconciliation is an iterative process.
I also enjoyed some of the lighter moments of the workshops. In particular, I enjoyed the drumming activity where our cohort participated in a group drumming session.
Q: What are some of your most valued takeaways from the journey?
A: Definitely the people. Although I felt like I missed a chance to make friends at the beginning, I actually met and befriended some amazing individuals. I also signed up to be mentored and I really value the relationship I built with my mentor.
Another takeaway was to be adaptable. I learnt that everything happens for a reason and when things do not go according to plan sometimes it is because better things are supposed to happen.
Q: Have any of your goals shifted since your time in residence?
A: My time in residence helped to consolidate my major goals. When I applied to be a scholar, I emphasised how my passion was to help and motivate girls who are aspiring to pursue a career in science, technology engineering and/or mathematics. My time in residence helped me map out how I can turn my passion into something tangible. I also realised that sometimes when you are passionate about something there is a tendency to want to make a big impact (in terms of quotas or the number of people reached) but I realised that if I manage to positively impact the life of one person then that is good enough.
Q: Any advice for the scholars in residence?
A: Take time to get to know the scholars around you and do not be afraid to try new things.
Q: Any advice for aspiring Mandela Rhodes Scholars?
A: Aspire to be and submit that application, you have nothing to lose.
Share this article: