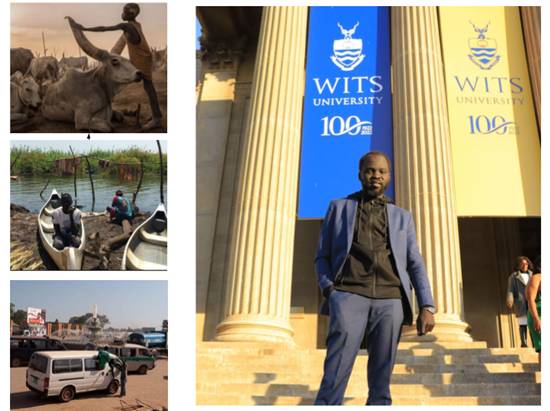 Inside the Programme
Reconciling the past, the present and the future: Accepting the complex parcels
Navigating the intricate tapestry of the past, the present, and the future is a journey that demands courage, introspection, and a willingness to embrace the paradoxes that life presents. In doing so, the Mid-year reconciliation workshop inspired me to reconcile my past, the present, and the future as well as the sacred duty of holding spaces for others to embark on their own reconciliatory journeys.
During the scholarship interview, I vividly remember being asked by Judy Sikuza, '"As a leader, what decision have you ever made that yielded both positive and negative consequences for you, your family, and society?" In that instant, my response emerged effortlessly. Born into a society where familial bonds and dependencies run deep, I knew I had to make trade-offs of either foregoing my aspirations of becoming Madiba's legacy bearers as a Mandela Rhodes Scholar and working to support my family and potentially contributing to the development of my community through an Entrepreneurial Leadership.
After much consideration of the journey that had taken me through cattle camps as a herd boy, fisherman along the Bible River Nile, a Bus conductor in the streets of Juba, all before reaching the age of twelve. Then later, crossing borders to Uganda, Kenya, Rwanda and ultimately landing me in South Africa. I was driven by the pursuit of education and leadership growth, my decision to pursue postgraduate studies and Leadership development with the MRF which did not go well with those that depended on me.
There and then, I knew I had to accept the complex parcels of wounds and weapons, lights and shadows. My past - especially my childhood upbringing and hardships that might have left emotional scars, my present of cherishing the opportunity to learn and develop intellectually, breaking free from societal expectations and a future beckoning me to channel my educational and leadership arsenal toward elevating the well-being of my community. The reconciliation workshop, therefore, was profound in reconciling my past, present and future.
Stepping into the mid-year reconciliation workshop and reflecting on the conversations I had with my fellow scholars and drawing from Madiba's lessons, such as his belief that reconciliation requires accepting our complex parcels of wounds and weapons, lights and shadows. The reconciliation workshop not only inspired me to reconcile my past, present and future but also made me realise that as a seed of change, holding spaces for others to reconcile is vital to building a society free from fear, guilt, shame, and anger - an inner work that Madiba's did in prison, and the heart of what MRF teach young leaders in the leadership development programme.
Share this article: