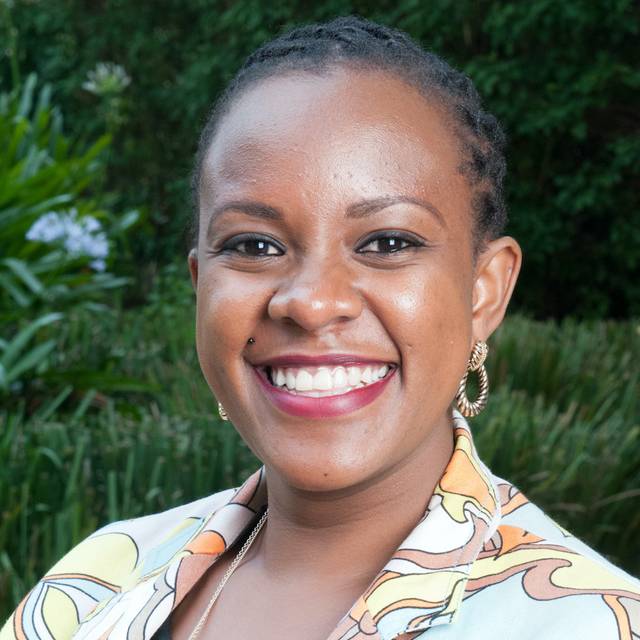 Scholar Stories
Afro-vision: the filmmaker on a mission to tell better stories about Africa
Barbara Karuana (Kenya & AFDA, 2016) makes a compelling case for telling more African stories with thoughtful films that show the complexity of everyday people.
"Why this story? Why this character? Why this time? Whose interests does this story serve?" Barbara Karuana prioritises having answers to these questions about the purpose and politics of the work before picking up a camera to film. We speak over a WhatsApp call several weeks into the Covid-19 lockdowns. She gives the impression of an artist with a very intentional point of view, choosing her words carefully. Barbara would rather circle back to a question at a later stage than give a response she herself is not fully sold on, often opting for the scenic route to an answer.
Barbara is an alumnus of the South African School of Motion Picture Medium and Live Performance, where she obtained her Honours degree in Directing and Screenwriting. The passion for filmmaking took hold of her during the third year of her journalism studies when she made a 10-minute short film. She enjoyed the process so much she had to explore it further. "I completed my Journalism degree knowing very well that I was never going to become a journalist," she says. Her choice of path began to pay off almost immediately: in 2014 Barbara and her team won the Nairobi edition of the 48 Hour Film Project (an achievement she still holds dearest to her heart). In that same year she was involved in the production of SENSE8, a Netflix series shot in her home country. By the time Barbara became a Mandela Rhodes Scholar in 2016, her vision and mission as a practitioner had become clearer, and her Honours graduation film won multiple accolades.
Barbara's commitment to her work is fueled by the world she grew up in and the stories that were missing from it. As a child who watched lots of television in the 1990s she never saw images or stories that represented her own reality or that of anyone she knew personally. "Growing up and becoming more exposed to that kind of material made me realise how desperately I needed to see myself and people who look like me. Representation on screen can mold your mind into certain beliefs which can either be empowering or limiting. The kind of images that you are exposed to about yourself can really determine who you are in life, what you believe you should and can aspire towards and what is possible for you," she explains.
Barbara's studies empowered her with the tools to dig deep and approach representation in a skillful way. For her Honours thesis she worked to solidify African children's sense of identity by highlighting what African people believe and value. Her thesis was on creating content for African children based on indigenous stories. "There is so much film and TV work that has been done internationally based on indigenous stories but for us it hasn't been tapped into quite as much. Let's face it, Lion King is not an indigenous story!" Barbara is committed to ensuring that young Africans always have people on their screens who look like them and stories that are familiar to them, allowing them to imagine that they can be anything in the world. For Barbara it is not just about empty representation but Africans seeing themselves shown accurately: as more than just diseased, war-torn, and chaotic. "I'm over it, we're not that, we're so much more. We are multi-dimensional characters and my work is committed to making that so," she says.
The challenge of making a living through film still poses a deterrent, but Barbara advocates for film as field of study in Africa. She believes that creativity plays a very important role: not only for entertainment - which she terms "getting human-beings through the drudgery of normal life" - but also in order to reflect society back to itself. She would like to see an expansion of the African perspective and more Africans bringing their lived experiences to filmmaking and telling a multitude of stories.
Asked what her dream project would be, Barbara chuckles and then says she would love to tell the story of a polyamorous black African woman. She wants to see a time in which that story could be told as a success story without being shrouded in shame. Thanks to the work of practitioners like Barbara, that time may come sooner than we think.
Share this article: