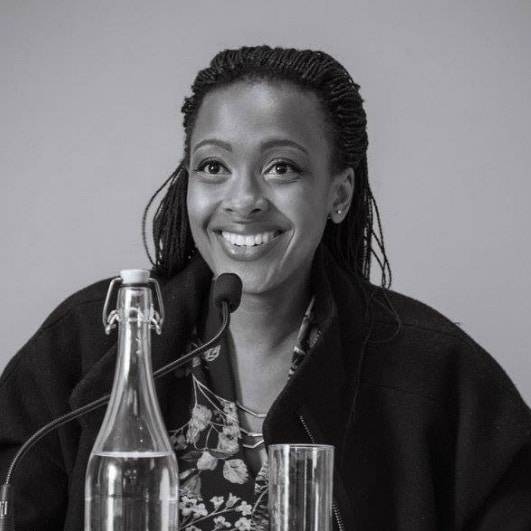 Scholar Stories
Inventing Algorithms with tech boss Lethabo Motsoaledi
Tech entrepreneur Lethabo Motswaledi has three playlists that she listens to when the going gets tough. The first is called World Domination. The second is Inner Strength, and the third is Compassion. Lethabo has big ambitions – "I want to build something that absolutely everyone will use and rely on, like Bill Gates did" – tempered by her reflective capability and emotional intelligence. She and her co-founder Matthew Westaway argue often about their product, something which Lethabo believes is essential for building trust. "We fight a lot, and that's why we're ultimately in agreement about everything," she says. Her time in residence as a Mandela Rhodes Scholar prepared her to articulate the difficult conversations that were ahead of her. "It really affected how I think as a leader, and the values I want my company to be built on," she says.
Lethabo and Matthew are the co-founders of Voyc.ai, a startup which aims to help companies understand their clients better. Consumer insights are usually gathered through interviews, which someone has to laboriously type up and translate into useable information. The Voyc algorithms, which Lethabo built, take hours and hours of conversations and use voice recognition and voice-to-text technology to identify key themes and produce write-ups and reports. Lethabo developed this platform after shifting to a user-centric approach, after their first two products failed to find a home in the market. Lethabo and Matthew quickly realised they were working on a solution to a global problem (their clients now include Standard Bank and Beiersdorf) and are getting ready to scale their company.
This clarity of purpose was the result of several years of failure – creating brilliant products which there was no market for – which Lethabo attributes to working in isolation and not talking to anyone, particularly customers. This has changed: in 2018 their entire team relocated to Germany for three months to participate in the competitive TechStars accelerator, where they were one of very few African companies. After a further build, Google acknowledged the novelty of their idea, and the Voyc team completed the Google Launchpad Africa accelerator in May 2019. This access to support and mentorship has made a big difference, even though the pace can be tough: Lethabo often works 16 hour days, 7 days a week.
Lethabo grew up in a family of doctors. As a child she was curious, rebellious, and questioning. By the time she was 16, she knew that she wanted to do something scaleable – not a profession. Her search for high impact led her to entrepreneurship: the people she describes as rolemodels are the likes of Richard Branson and Elon Musk. She studied Engineering at the University of Cape Town, and was an Allan Grey Fellow. This combination enables her to identify problems, find solutions, and think about them entrepreneurially.
"Resilience is the essential quality of an entrepreneur," she says. "An entrepreneur is someone for whom the discomfort of the unsolved problem is worse, or more pertinent, than the discomfort of failure, judgement, or rejection." Against all odds, it's the lack of a solution that motivates her to carry on. "There were fears I had to overcome that I had never imagined, but I had to, because it was the only way." This discomfort tradeoff is a daily decision, and is at the heart of what allows Lethabo to so actively embody what we mean by Entrepreneurship.
***
In issue 2 of Young African magazine, we profiled four Alumni doing exceptional things that relate to our values of Entrepreneurship, Education, Leadership, and Reconciliation. Lethabo's profile is the first to be released – keep an eye out for the rest, which are equally inspiring.
Share this article: