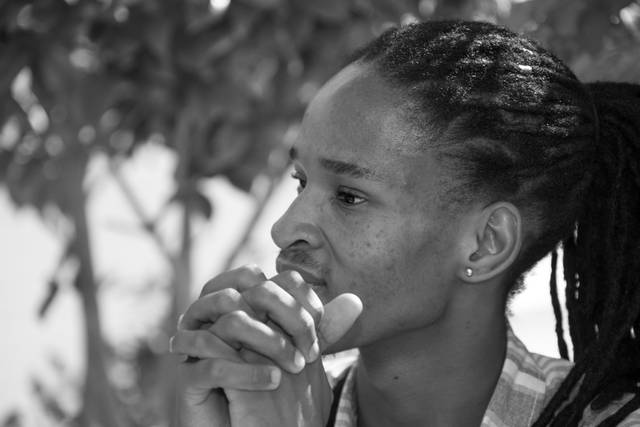 Young African Magazine
Making mental healthcare accessible and relatable: Meet the founder of Decolonial Mental Health
Zolani Metu (South Africa & University of Cape Town, 2017) is a Psychotherapist and the founder of Decolonial Mental Health, a consultancy that provides disruptive, evidence-based, non-clinical solutions to mental health challenges in South Africa. Zolani was our first guest on our #MandelaRhodesMondays live chat with our Communications Officer Ayanda Radebe. Here we share the highlights.
Zolani began by reflecting on his journey, sharing the realisations which have come to be key ingredients of his leadership, and set him on his path. "I am guided by empathy, even though it is not always easy to be empathetic," he explained. Zolani has a striking ability to look beyond the surface of deep societal issues, identifying solutions and finding a fresh language of leadership.
"When one is in an immediate environment, that being your only orientation, you don't realise that you are facing poverty and crime." Growing up, Zolani only truly understood his circumstances upon venturing into the greater world. These realisations echo throughout his story and journey of leadership. He was raised in East London in a township called Mdantsane and later moved to Cape Town where he called Philippi home. He describes growing up viewing the social challenges around him as the norm.
In Grade Ten Zolani discovered debating through a teacher. He recalled being surprised at discovering that other schools he'd visit across the country had different facilities for their learners like libraries. Another later realisation was that the level of alcohol his father consumed felt normal during his childhood, but was actually alcoholism. He had had no language to describe it at the time. Lastly, Zolani had a cousin with schizophrenia, who at one point nearly physically assaulted him when they were young. His parents were angry, and explained the actions of his cousin as demonic, but Zolani was dissatisfied with this explanation and felt there was something else. Much later in his studies of social work and psychiatry, he learnt what the challenges were that his cousin had faced. Zolani's story is a reminder of how much of what we experience we are unable to articulate and that may be part of the challenge to overcome the very thing that is affecting us.
Mental health in context: questioning the idea of "therapy" In 2018 Zolani worked in an ante-natal maternity mental health programme in Burundi. He noticed that participants in the mental health programme had difficulty relating to the psychotherapists and vice versa. However, they easily had the same conversation with each other around the fire at night. Zolani questioned his effectiveness as an African psychotherapist for not being able to relate and effectively conduct therapy with the patients in Burundi. This sparked the idea that led to Decolonial Mental Health. "There was a different approach needed, an approach that did not involve someone coming to something called therapy. An approach that does not involve someone sitting on a couch and talking to a therapist."
What Zolani saw in Burundi helped him understand health-seeking behavior in South Africa. People do not seek help with their mental health, which he said practitioners blame on stigma. Zolani realised that that what actually needs to change is the whole wellness ideology itself.
Towards relatable, accessible mental healthcare Zolani asks two pertinent questions when it comes to providing mental healthcare. Is it relatable? And is it accessible? This is the foundation for Decolonial Mental Health and informs how care is delivered; the practice is built on a wellness ideology which considers wellness attribution, wellness socialisation and wellness achievement. Wellness attribution refers to core beliefs about wellness. An example would be believing that wellness-seeking speaks to your masculinity: you're not man enough if you get help. Wellness socialisation refers to how people are conditioned towards mental health discourse, demonstrated in how an individual speaks about mental health in their immediate environment. Wellness achievement considers how a person sees healthcare - in this case therapy - based on various degrees of experience with it. If they have observed someone around them have low success with therapy, this may affect their perceptions.
Treatment facilitated through processes of collective healing. This is more accessible compared to the high cost of individual therapy. Support is delivered through non-clinical mental health care that is provided to groups of individuals in organisations, or groups that are referred to the practice. It involves combining all the things that can typically be derived from therapy and hosting them in a group environment. This includes unpacking each element of the wellness ideology, inviting participants to make collective realisations. Through this model and approach, Decolonial Mental Health delivers relatable and accessible mental healthcare.
Don't act kind because it is deserved, be kind because of who you are When asked about his rolemodels, Zolani listed three women who have inspired him to be kind: Justice Yvonne Mokgoro, Redi Tlhabi and his mother. Justice Mokgoro taught him kindness towards self by sharing that it is acceptable to not always be okay. Redi reached out on social media to provide encouragement and a vote of confidence in him – an act of kindness. And Zolani's mother taught him to be kind regardless of whether the other person deserves it.
Zolani's stories are immersive. He has a keen ability to make observations and find solutions, whilst embedding kindness and empathy into his approach. Zolani speaks and enacts a language of leadership that is not only new and pertinent, but warm enough to embrace.
Share this article: