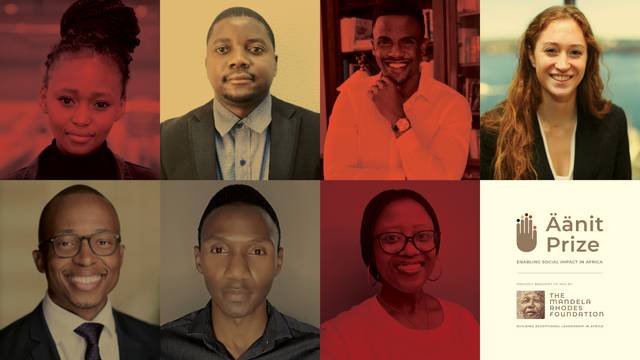 Young African Magazine
Seven insights on social impact and entrepreneurship
Finalists for The Mandela Rhodes Foundation Äänit prize pose questions to judging panel
When the seven finalists for The Mandela Rhodes Foundation's Äänit Prize were asked to pose questions about social impact and leadership in Africa to the competition's high-profile panel of judges, they rose to the challenge.
The result? Seven challenging questions and seven equally insightful responses from some of the continent's top thought leaders in their respective fields.
The panel included Dr Patrick Ebewo, head of the Centre for Entrepreneurship Development at the Tshwane University of Technology; David Cohen, founder of Ezrah Charitable Trust and donor of the Äänit Prize; Dr Elizabeth Kiss, CEO of the Rhodes Trust; Muitheri Wahome, an independent asset management expert; Dr Rethambile Melamu, general manager for the Green Economy Unit at the Innovation Hub (Department of Economic Development); Muloongo Muchelemba, director of selection at Rise; and Elliot Gerson, executive vice-president of the Aspen Institute, US secretary to the Rhodes Trust and chair of the panel of judges for the Äänit Prize.
How is education a catalyst for social change in Africa?
Responding to the first question by finalist, James Tayali, the founder and CEO of Keki-Mawe, a Malawian social enterprise working to reduce malnutrition, Dr Ebewo said; "Education opens doors. Without it we cannot escape from under the cloud of poverty.
"Recent technological advancements have presented us with an opportunity to democratise education. We need to be purposeful and understand that things are changing. And we need to harness technology to prepare for the future by increasing quality and access."
Youth unemployment is a huge challenge in Africa, but many companies complain of a lack of skilled workers affecting growth and profitability. Why is this so, and what can investors do about it?
Cohen responded to the next question from finalist, Kenechukwu Ikebuaku, the founder and CEO of Mozisha, a skills development initiative that matches young people with learning opportunities, by saying the labour market is the most inefficient market in the world.
"It moves sluggishly because people are bound by national locations, making it expensive and complicated to move jobs. The labour market also has the biggest variability in pricing between regions. Africa is the one place where the demographic dividend is in the future.
"Going forward, it will be valuable to incorporate young Africans – both the educated and skilled and the less educated and skilled – into the global economy. Technology is getting rid of some of the boundaries and location is mattering less: Africans are now able to launch companies that can serve the global market. The trick is to educate the population for this and create access. While this is a difficult job, it is an exciting opportunity. The big trends point in the direction of demographics, technology and enthusiasm," he added.
What educational advancement has been most impactful?
Chido Dzinotyiwei, founder of Vambo Academy, a language learning ed-tech startup, was answered by Dr Kiss, who said there has been an acceleration of finding talented young people and investing in them.
"There is a focus on inclusion and expanding access to education and a move by educators from purely imparting subject knowledge towards being student-centred and empowering them to become their best selves and make an impact."
From an asset management and investor perspective, where does Africa stand and can it play a leadership role in the global economy?
Wahome gave insight into the question from finalist, Sarah Burns, who is the founder of Nia Crowdfund, an innovative platform that connects global investors to exceptional African businesses.
"When I look at Africa I am filled with hope," she said. "The importance of education, access and demographics cannot be understated and providing access to capital is pivotal to achieving this. The real lesson from my work is the importance of trying to marshal long-term savings. In East Africa and Kenya in particular, the key has been co-operatives that pool together capital. Once you pool capital, you need a trusting environment of individuals and firms with impeccable reputations, so that people can put their capital to good use in entrepreneurial ventures.
"The other important aspect is innovation. The continent is full of opportunity and rich in many respects. When there is capital available, it forces innovation and allows people to mobilise their savings and explore opportunity," she noted.
What was the most important risk you took in your leadership journey and why?
In response to finalist, Vuyane Mhlomi, who is co-founder and CEO of Quro Medical, an innovative digital health company pioneering premium hospital-at-home services in Southern Africa, Muchelemba said when she left Oxford as a Rhodes Scholar, she was inspired to learn what was happening in different sectors around the world. "I worked in large corporates, oil, consulting firms and banking where I learned business skills.
"Banking, specifically, is key to powering our economies, but access to capital is a big challenge for SMEs. I wanted to learn from many different sectors, ultimately knowing I'd have to leave the corporate world to serve in a not-for-profit organisation and hopefully go back to Zambia and enter public service. I haven't taken any crazy risks – I've done something that not many people do, which is take a slow path in my career to pick up different skills."
In the social impact space, we have to work with different stakeholders: public and policy space, private sector, society at large. Some global, some local. How does one inspire collaboration between stakeholders who have different incentives?
In answering Esethu Cenga, co-founder and CEO of Rewoven, a textile recycling startup, and the winner of the 2021 Äänit Prize, Gerson said while someone can have an inspiring idea, he or she needs to be able to give potential stakeholders a common incentive to understand how the idea can make a difference to them and to others.
"Human nature is altruistic and empathetic. We want to help each other, but we often just don't know how. So, it takes vision and inspiration to convince stakeholders that it's important to get engaged. You need to understand your environment, and to do that requires a separate set of skills. It is difficult to accomplish much on your own – you have to lead a team, and inspire and empower people. There's no simple formula, but you have to pull these strings together and make something bigger than the constituent parts."
How does the Open Innovation Exchange support social innovation?
Sammy Sambu, who is managing director of Bartanel Discovery, a company working to decentralise vaccine trials in Africa, received clarity from Dr Melamu, who said OpenIX seeks to bring solution seekers and solution providers together on one platform.
"There are many challenges in delivering services to the majority of South Africans, and similar challenges are faced across the continent. So, for example, we could assist the Department of Health or the SADC regional health body if they needed a specific solution (like a vaccine trial) to find someone who is offering it. OpenIX then funds part of the project with the solution seeker."
Share this article: