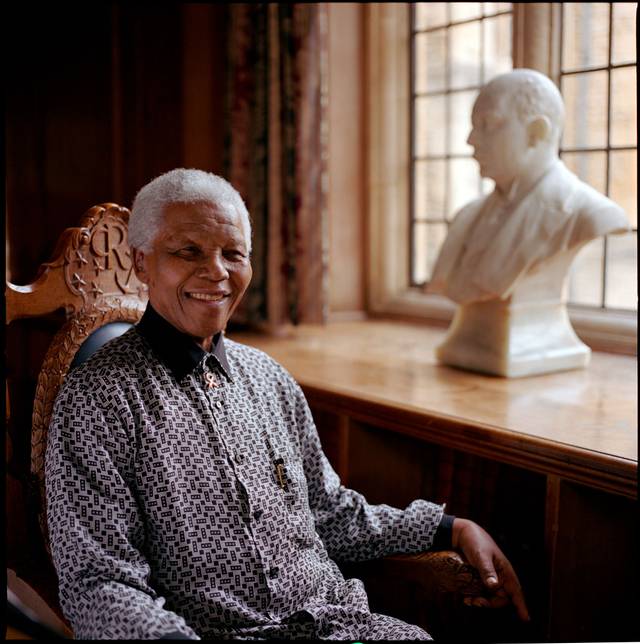 Foundation News
Lessons from Nelson Mandela on reconciliation, reparation, and the path to prosperity
The Mandela Rhodes Foundation was created in 2003 by Nelson Mandela in partnership with the Rhodes Trust. Our purpose is to build exceptional leadership in Africa in the belief that this will substantively contribute to a better life for African people. The resurgent #blacklivesmatter and #rhodesmustfall protests are interconnected struggles against un-redressed legacies of slavery and colonialism, affecting Africans and black people worldwide. As a Nelson Mandela legacy organisation embodying some of the contestations currently underway, we would like to express our perspectives on the relationship between reconciliation and reparation and our view of social change. This approach is firmly rooted in Nelson Mandela's express wishes and the example he set throughout his lifetime, and has direct bearing on the anti-racist struggles being waged at present.
Nelson Mandela's approach to reconciliation and nation-building
Reconciliation has become a mantra for those who would like to forgive and forget, and Nelson Mandela is often invoked as the patron saint of this approach. For those who are tired of waiting for radical and symbolic changes to end the systemic racism that continues to prevail globally, reconciliation has become a dirty word. In leading South Africa to freedom in a constitutional democracy, Nelson Mandela intended for reconciliation to go hand in hand with redress, and he understood that reconciliation without reparation would be an empty gesture. Mandela wanted to rebuild South Africa – and the continent – to be a just, fair society of equal opportunity. This would require reparation, redress, and the redistribution of resources along more equitable lines. At the same time, Madiba understood that the only way this vision could be achieved was if all parties would come together to work towards it.
Reconciliation is a call for human reconnection; reparation requires a joint acknowledgement that the wrongs of the past are still pervasive in people's engagements with one another within and between nations. It is for those reconciling to acknowledge that the wealth of some is a structural function of the poverty of others; and that the few who are wealthy have come to wield considerable and often unjust power over those who are poor.
How might this difficult work of negotiating transfers of power and resources to create more just societies – in which everyone can feel fully human - be achieved? Through its creation, The Mandela Rhodes Foundation endeavours to provide a substantive example of reconciliation with redress, and the skill of working towards such outcomes is what we teach our young leaders.
The true message of the Mandela Rhodes partnership
When Nelson Mandela agreed to co-found the Foundation with the Rhodes Trust in 2003, he was fully conscious of the tension between his own life and legacy and that of Rhodes. He neither sought to sanitise Rhodes' image nor redeem him through juxtaposing their names. To use the partnership to justify the continued display of colonial symbols is to fundamentally misunderstand it. The partnership provided an opportunity to come together across historical divides, heal the wounds of the past, and build a just future that appreciated diversity and was built on true systemic inclusion. The provocative name of The Mandela Rhodes Foundation is an eternal call for the beneficiaries of colonialism to participate in and contribute to fixing the damage and help create more humane futures. Mandela's message – expressed clearly in the Mandela Rhodes partnership – is not to forgive, forget, and accept the status quo. It is to work together to strive for social justice, and in this it is not only the responsibility of the oppressed: the oppressors, or all those who continue to benefit from oppressive legacies, must also contribute.
Speaking in 2003, Mr Mandela said that the Mandela Rhodes partnership spoke "of a growing sense of global responsibility that… the Rhodes Trust finds it appropriate to redirect some of its attention and resources back to the origin of that wealth." Against this context his acceptance of £10 million to establish a scholarship and leadership development programme for African leaders in Africa was a symbolic 'closing of the circle of history.' The Mandela Rhodes partnership expresses Mandela's vision of reconciliation and redress as inseparable. It is not enough to apologise without taking responsibility for creating a more just society.
How to get there: humanisation as the fundamental skill of leadership
Finding a way to truly live together across historical divides is one of the hardest tasks to achieve. Most of human history teaches that warring parties will only compromise when they are sure they won't be overpowered or dehumanised in the new order. It is this fear that makes those in power resist the hard work of examining the calls to transform in ways that value the lives and perspectives of marginalised groups. But in refusing to humanise those calling for transformation, those in power continue to dehumanise themselves. Until those with power address the effects of our complex past with courage, humility, and the willingness to co-create a future with more shared power amongst all peoples, we will continue to move further away from finding our common humanity. This is very hard work, but it can and must be done.
At the Mandela Rhodes Foundation, we teach leaders to fully embrace their own humanity, in order to connect with and then lead others. The current moment is a call to pause, to listen, to seek understanding, and to try to see with empathy the lived experiences of others. It is an invitation to come to the table and to engage in the difficult work of reckoning with old histories of slavery and colonialism, and of uncomfortable newer histories which tell the story of who benefits from those systems today. In our African contexts, the structures put in place by white colonisers have remained but are now operating to the benefit of black elites. Sitting with these uncomfortable truths invites reflection and engagement with all parts of one's self: the part that is a wounded victim, and the part that does hold some power or perhaps unacknowledged privilege. Connecting to one's humanity requires accepting our complex parcels of wounds and weapons, lights and shadows. Freed of fear, guilt, shame, and anger, one is better equipped to see and engage with the humanity of others: this is the inner work that Nelson Mandela did in prison, and the heart of what we teach young leaders in our programme.
The way forward
Done individually and collectively, this reckoning lays the foundation and creates the necessary buy-in for a shared mutually beneficial outcome. Transitioning from an oppressive order to a new order must involve shifts in the balance of economic and social – not only political – power. The alternative is window-dressing, in which the balance of power remains the same, and it is this balance of power which is being questioned by the #blacklivesmatter and #rhodesmustfall protests. Those with too much will need to be willing to concede some of it if they want to see a fairer world and truly move on from the past: this is the case in South Africa, in America, the UK and the world over.
It is the work of leaders to bring all parties together across these complexities in order to make difficult trade-offs, ensuring that reconciliation and reparation go hand in hand. We see our name as a constant call to actively engage with the legacies of the past, while we invest in the next generation of leaders who want to use their education, skills and passions to fundamentally shift the lives of African people towards true dignity, prosperity, and joy.
The Mandela Rhodes Foundation
Full information about the Foundation and its programmes may be found at www.mandelarhodes.org. For further comment or to request interviews, please contact Abigail McDougall, Communications Manager.
Email: abi@mrf.org.za Twitter & Instagram: @MRF_Africa Facebook: Mandela Rhodes Foundation
Share this article: