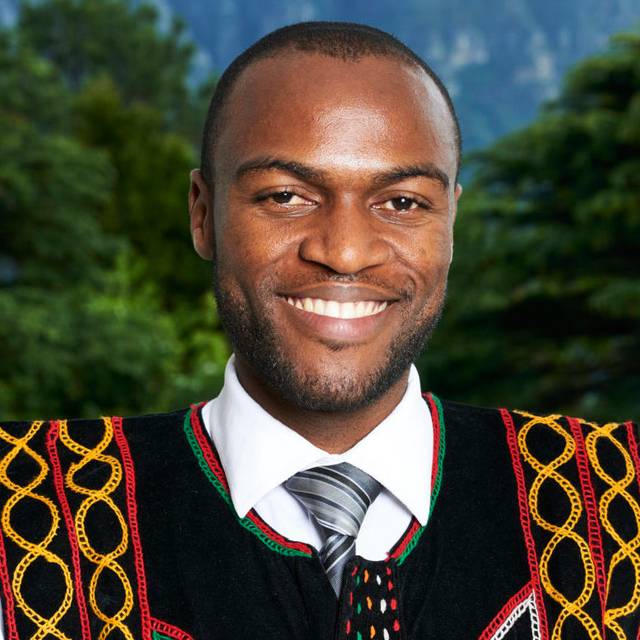 Scholar Stories
Preaching peace: the young leader slowing down Cameroon's civil war
Andrew Tangang (Cameroon & SU, 2018) returned to his home country at the height of a major conflict. He was perfectly placed to lead a youth movement for peace that got the government's attention.
Tangang Andrew Tangang grew up in the Bambui Fondom in Cameroon, and as a child he dreamed of being a doctor, and then a journalist. He studied philosophy, then diplomacy, and is now specialising in governance. As a Mandela Rhodes Scholar he completed his Masters degree in Public Administration at Stellenbosch University, honed his leadership skills, and learnt about reconciliation and the South African transition process from his MR Mentor Elmarie Potgieter. "I now look at policy and peacebuilding from a far more subtle perspective. Finding the common ground became the centre of my thought," he explains.
By the time he arrived home in January 2019, Cameroon's 'Anglophone crisis' was developing into a civil war between the military and armed separatist groups in the North-West and South-West regions. The conflict had been escalating since a state crackdown on the Anglophone minority population in November 2016. The violent conflict was deeply disruptive; Tangang's younger brothers and cousins were prevented from attending school for two years.
On his return he took up a role at Local Youth Corner, a youth-led civil society organisation, which realised that young people could play an important role in peacebuilding. The organisation re- oriented its work and began a programme of training young people to facilitate peace-building processes. Tangang put his understanding of reconciliation into practice through the public administration skills gleaned from his Masters. "We were able to train young people to design, implement and evaluate peacebuilding initiatives in their respective communities." They started with 30 mediators from conflict-affected areas who returned to their communities and trained others to promote peace and dialogue, resulting in a network of 600 young mediators.
In a radically polarised context, calling for peace is both unpopular and dangerous at times. There are several separate groups, often at odds with one another. The young men get to a point of no return, where dropping their weapons means they instantly become targets themselves. "The mediators are doing incredible work on the ground promoting peace. They are risking their lives, but we are receiving positive feedback. Targeting has reduced. There are some people who cannot let the guns go, and the separatists continue to carry out kidnaps and torture people," Tangang explains. "But we cannot give up."
When the government finally began a dialogue in October 2019, Tangang was approached to submit a proposal for youth participation. Afterwards, he was involved in organising a national symposium of young people to work on implementing the outcomes, which led to the creation of the Cameroon Youth Mediators Network.
This was a significant victory for young people in Cameroon. "The government is starting to see us as more than spectators. It now sees us as real actors and game changers in the processes," he says.
The Youth Mediators Network provides an important alternative for those who want to drop their weapons but don't want to go to government demobilisation centres. How do you call for peace when people you know personally have been killed by soldiers, or when there are scores to be settled? "At Mandela Rhodes Foundation I learnt that you don't have to accept [other people's ideas] but you must reconcile them for the betterment of society. It prepared me for this moment – and now I'm in it. There is no need for high theories – now it's time for the work," he says.
Although the conflict in Cameroon is not over, the Youth Mediators Network provides some hope, proving that where there are those willing to build bridges, there is always common ground.
Tangang has spent the last eight years becoming an expert in local governance, and hopes to teach it in Cameroon. His passion is for empowering local people to take control of their own development. He has been awarded a 2020 Shaun Johnson Memorial Scholarship, and will undertake a PhD to this end at the University of Birmingham in England.
Share this article: