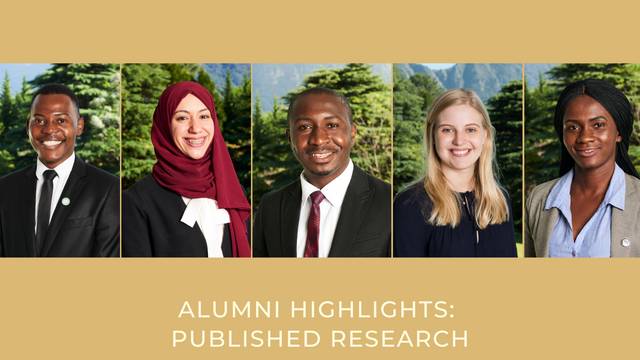 Young African Magazine
Alumni Highlights: Published Research
Mandela Rhodes Scholars are known for their pursuit of excellence and their determination to do their part to better the continent. In these highlights we shine a light on 5 scholars who have published academic papers in recent months. As always, it gives us great joy to amplify their work.
Bakani Ncube (Zimbabwe and University of Western Cape, 2020) along with his colleagues, published a journal article in Pharmaceutical Medicine titled "Medicines Regulatory Science Expertise in Africa: Workforce Capacity Development and Harmonisation Activities Towards the Establishment of the African Medicines Agency". This paper addresses the medicines regulatory landscape in Africa. Currently National Medicines Regulatory Authorities in Africa have limited capacity due to a shortage of competent regulatory professionals, high staff turnover and lack of diversity of scientific expertise. The article assessed the impact of this, highlighting the initiatives that are working to improve the state of affairs.
The Public Policy Hub at the American University in Cairo published a paper titled Improvng Egypt's Access to Vaccines and Medicine: Communication during COVID-19. This was the work of Reem Yehiya (Egypt and University of Western Cape, 2018) and her colleagues. In this paper they acknowledged Egypt's impressive Covid-19 response to ensure the availability and affordability of vaccines for Egyptian citizens while also highlighting the "missing piece" which is the attractiveness of vaccines to many. They analysed the government's communication strategy and suggested an augmented version that helps raise awareness, dispel misconceptions and builds an open channel with the community.
In Frontiers in Immunology, Sunday Ochai (Nigeria and University of Pretoria, 2019) wrote and published a paper titled "Immunological Evidence of Variation in Exposure and Immune Response to Bacillus anthracis in Herbivores of Kruger and Etosha National Parks". This paper investigated the immunological dynamics of anthrax infection in these two national parks with the goal of understanding whether the rarity of disease mortality in an area is a function of low or no exposure or higher adaptive immune response.
Economics scholar Emma Whitelaw (South Africa and University of Cape Town, 2017) published her work in Econ 3x3, a resource that provides research and expert commentary on unemployment, income distribution and inclusive growth in South Africa. Her paper was titled "Social stratification around the NSFAS threshold: A dynamic approach to profiling the missing middle" and it aimed to highlight the socio-economic circumstances of South African households in relation to the current threshold to inform and provide context to complex policy considerations.
Earlier this year, Chimezie Anajama who has recently graduated with a second Master's degree (Nigeria and University of Western Cape, 2019) wrote a conference paper on "Encouraging Decent Digital Jobs for Less-formally Educated Youth: A study of Uber and Bolt Drivers in Nigeria". Her paper was accepted and presented at the 2022 Platform Work and Inclusion: Ensuring Decent Work and Basic Rights conference organized by the Centre for Transformative Regulation of Work (CENTROW), University of the Western Cape, Cape Town.
Share this article: