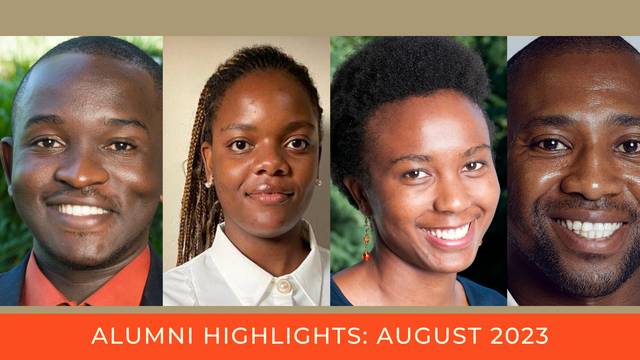 Young African Magazine
Alumni Highlights: August 2023
Mandela Rhodes Scholars are leaders in their respective industries. We see it important to cultivate a space for giving recognition where it is due. Here are the scholars who have been making their presence felt in the spaces they inhabit in recent weeks.
Bovinille Anye Cho (Cameroon & Stellenbosch University, 2017) graduated with a PhD in Chemical Engineering from the University of Manchester. About his achievement, Bovinille said "This ticks the final milestone of my journey to PhD and presents a promise that I will achieve many great things in the upcoming years. I am forever grateful to my supervisors and collaborators, family and friends, and scholarships ( Commonwealth Scholarship Commission and the Mandela Rhodes Foundation).
Christy Chitengu (Zimbabwe/South Africa and University of the Witwatersrand, 2022) was named one of Mail&Guardian's 200 Young South Africans in the category of Justice. Christy is a candidate attorney specialising in constitutional litigation and human rights. Christy was born in South Africa to undocumented foreign parents, a predicament which placed her at risk of being stateless as she was neither legally a South African citizen nor a Zimbabwean. She is the applicant in ongoing litigation against the Department of Home Affairs to enforce her citizenship as provided by the South African Citizenship Act. Christy has advocated for migrant rights and enabled access to information for migrants and refugees to be empowered to advocate for themselves in the absence of legal representation.
Jolynne Mokaya (Kenya & Stellenbosch University, 2016) was awarded the Stars of Science 2023 award for Leadership by the Wellcome Sanger Institute, a leading genomics research centre. This is a quarterly award given to employees for going above and beyond their day job in six categories: collaboration, communication, leadership, driving results, integrity and innovation. Jolynne is a Senior Bioinformatician at the Wellcome Sanger Institute in the U.K.
Daniel Ndima (South Africa & University of Pretoria, 2015) was awarded the "All Africa Innovator of the Year Award" at the 11th edition of All Africa Business Leaders Awards. The AABLA, which hosts Africa's largest business awards event, was established in 2012 and is in partnership with CNBC Africa, rewards and highlights exceptional African leaders for their dedication to Africa's developmental agenda, innovation, impact, steering of good governance in their organisations and social responsibility among other works. Daniel Ndima is the founder and CEO of Capebio.
Share this article: