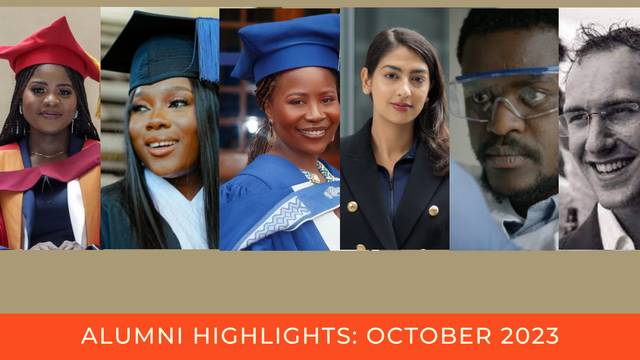 Young African Magazine
Alumni Highlights: October 2023
The month of October brings an array of outstanding achievements from Mandela Rhodes Foundation alumni. This month's highlights showcase the remarkable accomplishments of individuals who have been nurtured by the foundation's values of education, leadership, and social impact.
Zainab Manisola Olaitan (Nigeria and University of Cape Town, 2018) was recently conferred a Doctor of Philosophy in Political Science from the University of Pretoria. Her doctoral research focused on the impact of gender quotas on the substantive representation of women in African politics using Botswana and South Africa as case studies. An avid proponent of women's rights and representation, Zainab's master's dissertation was on women's participation in peacebuilding in West Africa, using Sierra Leone as a case study.
Chioma Amaechi (Nigeria and Stellenbosch University, 2020) was recently conferred a Master's degree in Public Management and Policy from the University of Pretoria. Her dissertation was on Social Protection Policy Responses in Nigeria. Chioma currently works as a Program Coordinator and uses various mediums to speak against sexual harassment against African girls and she aims to seek solutions to fundamental problems associated with women and children in emerging economies in relation to poverty, inequality and hunger.
Ajohche Awungjia (Cameroon and University of the Western Cape, 2016) was conferred a Doctor of Philosophy in Applied Linguistics from the University of the Western Cape. She currently works as a Postdoctoral Researcher for the European Commission as well as lecturing undergraduate and postgraduate modules in the Linguistics Department at UWC. Reflecting on her achievement she shared, "I cannot stop thanking God for everything. I can't stop thanking my family and my amazing community of friends that held me through it all. I need to start thanking myself for staying focused, for not letting life's challenges affect my performance in school, or my attitude towards life, for not giving up on me."
Humairaa Moosa (South Africa and Stellenbosch University, 2023) has been awarded the Rhodes Scholarship. A month ago, Humairaa completed her year in residence with the MRF as an Honours student at Stellenbosch University, prior to which she graduated Summa cum laude with a Bachelor of Commerce Degree, from the University of Kwa-Zulu Natal.
EDX Medical has acquired Hutano diagnostics Ltd which was founded and led by Atherton Mutombwera (Zimbabwe and Nelson Mandela University, 2014). EDX Medical Group develops innovative digital diagnostic products and services for the treatment for cancer, heart disease and infectious diseases. They announced the expansion of the Group through the acquisition of the entire issued share capital of Hutano Diagnostics Limited. Atherton said "Joining forces with EDX Medical Group PLC opens up a world of possibilities. It gives us access to the resources, expertise, and global reach necessary to usher in the age of digital point-of-care diagnostics. Together, we will be able to bring our innovations to a much broader audience and drive positive change in the healthcare landscape." Hutano Diagnostics were one of the 2022 Äänit Prize winners. Before establishing Hutano, Atherton did his MBA at the University of Oxford.
Jai Cliffird-Holmes (South Africa and Rhodes University, 2011) jointly published a paper titled "Principles for transformative ocean government" in the Nature Sustainability Journal. With a focus on oceans, Jai and co-authors collaborated across ecological, social and legal disciplines to respond to the United Nations call for transformation in the '2030 Agenda for Sustainable Development'. They developed a set of 13 principles that strategically and critically connect transformative ocean research to transformative ocean governance (complementing the UN Decade for Ocean Science). Jai is a Consultant at the Center for Coastal and Marine Research and holds a PhD in Water Resource Science.
Share this article: