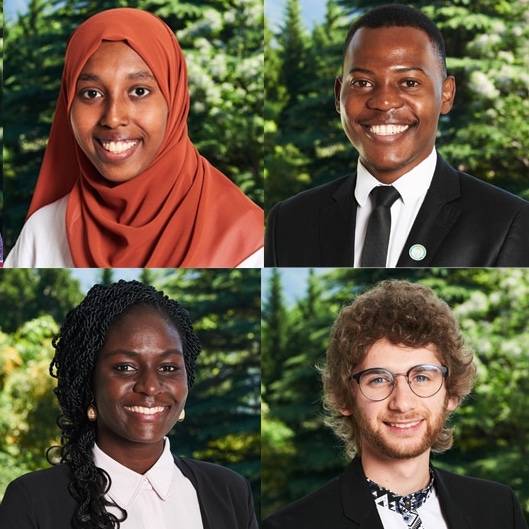 Foundation News
Introducing the Class of 2020
FOR IMMEDIATE RELEASE
54 exceptional young African leaders receive The Mandela Rhodes Scholarship
The Mandela Rhodes Foundation is pleased to announce the names of the 54 young Africans who will make up the Class of 2020. The Mandela Rhodes Scholars in this Cohort hail from 14 African countries. They will all complete postgraduate studies in South Africa, in disciplines as diverse as Astrophysics and Graphic Design, while completing the MRF's Leadership Development Programme.
Historic Milestones
The Foundation has now awarded over five hundred Scholarships since its inception in 2005: the 54 new Scholars bring the total to 532. The Foundation strives to attract the best candidates from across the continent, and this year we celebrate our first-ever Scholars from Djibouti and Burkina Faso. We now have a total of 28 African countries represented. The Mandela Rhodes Scholarship is open to students from all African countries; we continue to work towards realising Mr Mandela's vision for a Programme that would benefit the whole continent, not only South Africa.
Roll Call of the 2020 Mandela Rhodes Scholars
Click through to access full bios:
Anieto, Ebuka Miracle (Nigeria)
Beukman, Eduard (South Africa)
Davids, Delecia (South Africa)
Ezenwanko, Elochukwu (Nigeria)
Franklin, Christopher (South Africa)
Ismail Wazar, Mishka (South Africa)
Khumalo, Fezokuhle (Kingdom of eSwatini)
Khumalo, Maxine (South Africa)
Kinyera, Rodney Jordan (Uganda)
Marepula, Hlumelo (South Africa)
Mokitle, Khothatso (South Africa)
Mudehwe, Gamuchirai (Zimbabwe)
Neilon (Clowes), Sarah (South Africa)
Ngwenyama, Nosisa (Kingdom of eSwatini)
Oghenechovwen, Ogheneochuko (Nigeria)
Phillips, Jeremy (South Africa)
Shingange, Rimbilana (South Africa)
Sichinga, Daniel Lifuka (Zambia)
Staphorst, Luan (South Africa)
For further information about the Mandela Rhodes Scholarships, requests for interviews with Scholars or staff, or photographs for publication, please contact Communications Manager Abigail McDougall 021 424 3346 or e-mail abi@mrf.org.za.
The Mandela Rhodes Foundation is an official Nelson Mandela legacy organisation tasked with developing exceptional leadership capacity in Africa. We provide a combination of postgraduate funding with a Leadership Development Programme to young Africans with academic prowess and demonstrated leadership potential.
Share this article: